CHARLOTTE — Besides the former Chargers on Carolina's roster — safety Tre Boston and offensive linemen Russell Okung and Michael Schofield — no Panther is more familiar with this weekend's opponent than linebacker Tahir Whitehead.
While playing for the AFC West division rival Raiders the past two seasons, Whitehead faced the Los Angeles offense four times. Though the Chargers no longer have quarterback Philip Rivers, Whitehead sees an offense that's very similar to the one he faced late last season following Shane Steichen's promotion to offensive coordinator.
"They're working out some kinks, but you can see that they still have their guys who are making plays," Whitehead said.
First-round pick Justin Herbert will start at quarterback after he took over for the injured Tyrod Taylor just before kickoff last week. Herbert was impressive, especially with such short notice, completing 22 of his 33 passes for 311 yards with a touchdown, an interception and a rushing touchdown against the Chiefs.
Playing on the West Coast for the last two years, Whitehead became familiar with Herbert from watching Oregon games on Saturdays.
"If you're the backup, you're pretty much getting little to no reps at all during game week. So to see what he was able to go out there and do, manage the offense and get them down the field against the Chiefs, I think that was extremely impressive," Whitehead said.
Though it's just one game, Herbert's play last week is enough to get a decent scouting report on the young quarterback. Besides that, Whitehead feels it's best to look at concepts and what Steichen has done in the past.
"I think their offensive personnel and their offensive scheme suits him," Whitehead said. "He didn't look uncomfortable at all out there running the show."
A strong running game is often a young quarterback's best friend, and the Chargers have that with Austin Ekeler and rookie Joshua Kelley. The pair have combined for 301 yards rushing on 70 carries, averaging 4.3 yards per attempt.
While Ekeler leads Los Angeles with 35 carries, he's also earned a reputation for being one of the league's top receiving backs. Last season, Ekeler caught 92 passes for 993 yards with eight touchdowns. Through two games in 2020, he's caught five passes for 58 yards.
Whitehead described Ekeler as a slippery player who's comparable to former Chargers, Saints, and Eagles running back Darren Sproles. But it's the intensity Ekeler plays with that lets Whitehead know the running back came into the league undrafted.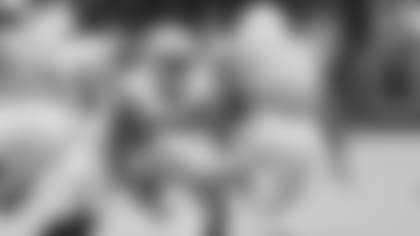 "He makes sure he gets everything out of the opportunity he's been given," Whitehead said. "It's his mindset and the way he plays the game.
"You really need to know where he is on the field at all times and know that they're going to get him involved in some way, shape, or form."
Outside of Ekeler, Los Angeles' top receiving threats in wide receiver Keenan Allen, wide receiver Mike Williams, and tight end Hunter Henry are also tough to stop. The trio has combined for 63 receptions and 372 yards so far in 2020.
"As far as their skill players, they definitely have an opportunity to really make some big plays," Whitehead said. "That's exactly what I've seen from them in their first two games."
The Panthers have been up-and-down on defense through their first two games, with drive-extending penalties a key issue in last week's loss to Tampa Bay. While Whitehead noted Carolina improved its tackling from Week 1 to Week 2, other problems can't keep popping up.
"As long as we pull it all together, I think we really have a good defense, and we can go out there and make some noise," Whitehead said.
Carolina holds a 5-1 edge in the all-time series against the Chargers.