His new defensive coordinator?  
"We're going to depend on Thomas as much as we ever have," Eric Washington said Monday.
That doesn't necessarily mean Davis, who turns 35 in March, will continue to start and play every snap each week. 
"Physically how we deploy him and Shaq (Thompson), that's yet to be determined," Washington continued, "but Thomas is important to us now, in my opinion, as much as he's ever been."
Davis ended up in his third consecutive Pro Bowl but admittedly had a down year in 2017. Plagued by injuries, he made fewer than 100 tackles (76) for the first time since 2011 and played his fewest snaps (791) in six seasons. Meanwhile, as former defensive coordinator Steve Wilks foreshadowed last summer, Thompson saw an increase in playing time. Some of the uptick was in place of Davis. Most was as the third linebacker in the base defense or as the slot guy in a nickel set. 
Thompson, who played 444 snaps as a rookie and 534 a year later, finished with 684 in 2017. But that increase didn't produce a big spike in stats. 
Shaq Thompson

Season

Games
Tackles
Sacks
Passes Defensed
INTs
FF
2017
14

61
2.0
1
0

1
2016
14
56
0.0
5
1
0
2015
14

50
1.0
2
0

0
Yet Washington remains confident Thompson, who turns 24 in April, can reach a much higher ceiling. 
"Shaq is on the cusp of being a superstar," Washington said. "The versatility, the intelligence, all the ways you can utilize Shaq and create mismatches and put yourself in the position to make explosive plays against the offense. Every year we find a new way or something different about this young man that we can take advantage of.
"He just needs to keep growing, keep growing and developing. It all starts with the foundation of how you play the position. The position fundamentals, and then your knowledge about our system and how you deploy those things against any opponent."
What could affect Davis, Thompson and especially Luke Kuechly is a hole the Panthers may need to fill in front of the linebackers. Defensive tackle Star Lotulelei, whose role often includes keeping blockers off Kuechly, appears ready to test the free agent market. A section of the fan base figures that if Lotulelei leaves, his space can just be filled by 2016 first-round pick Vernon Butler. 
"It's not that simple," Washington said. 
Butler has two inches and 15 pounds on the 6-foot-2, 315-pound Lotulelei, but that doesn't automatically make Butler an ideal candidate as a space filler who can handle a stream of double-teams. The two have different skill sets – Lotulelei is more of a natural nose tackle; Butler is more of a 3-technique guy with more potential to be disruptive.
"You don't replace Star, and at the same time Vernon's role in terms of being in a rotation and possibly being a starter, that's important that we continue to develop that. To me one has nothing to do with the other," Washington said. 
"In Vernon's own right, within his own skill set, Vernon is capable of being a difference-making starter. But I'm not looking at Vernon to replace Star. Star is important, and that's kind of the way this thing has been built and designed, especially on the emphasis of getting players like that and building your football team from the front (to the) back."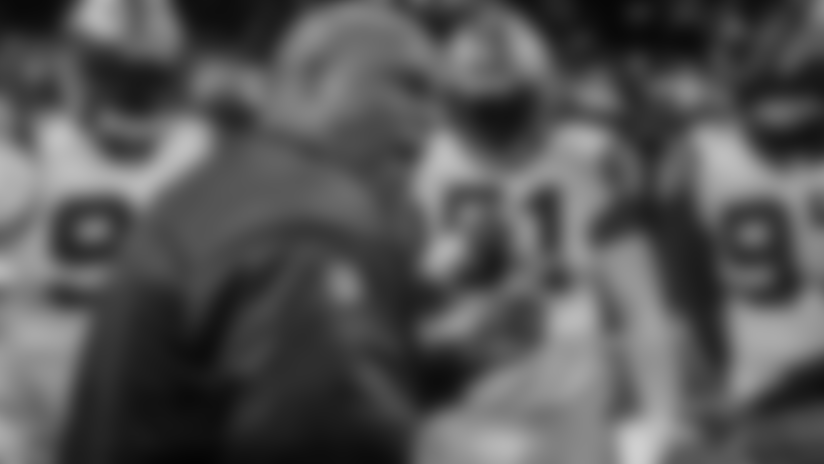 That philosophy has left some deficiencies in the back end over the past few years, a foundation former general manager Dave Gettleman tried to rebuild in 2016 by following the Butler pick with three consecutive cornerbacks. But Zack Sanchez spent most of the past two years either injured or on the practice squad; Daryl Worley lost his full-time role; and James Bradberry didn't make the huge leap many predicted in his second season. 
Still, the Panthers aren't yet giving up on Worley or playing time partner Kevon Seymour, and Washington believes Bradberry "checks off all the boxes."   
"He has length, he has the attitude of a very aggressive player. He has the speed to be physical and make sure he can stay over the top," Washington said. "We just need to tighten up technique across the board, not just at the corner position." 
Part of that technique will focus on how the secondary can make more plays on the ball. The Panthers in 2017 had a league-low 55 pass breakups and 10 interceptions. Both totals were the fewest in franchise history. 
"When that ball is in the air, it's a free ball. It's a free ball, and we like to think it belongs to us as much as the receiver who's being targeted," Washington said. 
"If there's production that we're not getting from the back half, we need to look at what's going on in terms of the rush. In times that we do deploy an extra person in terms of a blitz, we need to make sure all those systems are working together. We don't isolate one thing and say that person. It all has to work together, so we have to look at everything."