CHAPEL HILL, N.C. – Like most football fans, North Carolina guard Jonathan Cooper knows about the green room at the NFL Draft, the holding area where many of the draft's top prospects wait to hear their name called.
Cooper will have first-hand familiarity with the green room a month from now, when he is among those waiting. He hopes he doesn't become too familiar with the room, but he's approaching the invitation with a healthy attitude.
"I've just decided I'm going to enjoy the process," Cooper said. "If I'm there all day, then I'll be there with my family. And it's a once-in-a-lifetime opportunity."
If recent history is any indication, Cooper will get the green light to exit the green room and ascend the stage at Radio City Music Hall sooner rather than later.
The Tar Heels have produced a first-round draft pick four of the last five years, an impressive record of success that Cooper looks likely to extend. And he could have company in the first round, with Tar Heel defensive tackle Sylvester Williams rated by some as a possible first-round material as well.
No wonder 30 NFL teams, including the Panthers, were represented when the Tar Heels held their annual pro day Tuesday.
"Everybody around the NFL is here watching these kids. They know we have good quality players here," UNC coach Larry Fedora said. "These guys are going to help make NFL teams better, and they're going to be good quality citizens that you don't have to worry about off the field. They're going to help teams win."
And the string of success is helping what most people view as a basketball school sell itself on the football field, especially when you look deeper at what Cooper and Williams have been able to do.
Williams wasn't recruited out of high school and went to work in a factory before giving football one last shot on the junior college level. Cooper grew up in Wilmington, N.C., and got very few scholarship offers outside of the state.
"It helps us as a football program when people look at somebody like Jonathan who wasn't heavily recruited, who wasn't a five-star athlete, and he's turned himself into a first-round draft choice," Fedora said. "I'm very proud of these guys."
This year's crop of Tar Heel talent doesn't end with Cooper and Williams, just like it hasn't ended with the first round in recent drafts. Beginning with the New York Giants' selection of former Charlotte Independence High School wide receiver Hakeem Nicks in the first round of the 2009 draft, the Tar Heels have had 18 players picked over the last four drafts.
This year, they're expected to have at least four more drafted.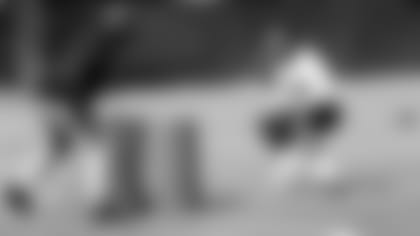 Giovani Bernard, who led the nation in punt return average and ranked fifth in scoring and 11th in rushing, is considered one of the top running backs in the class. He wowed scouts and spectators Tuesday with his lightning-quick moves during drill work.
Kevin Reddick is considered one of the better top five inside linebackers in the class. He showed his explosiveness throughout his senior season by leading the ACC with 18.5 tackles for loss, and he showed it again Tuesday while taking part in drills with defensive backs.
UNC has been known for its basketball family since the early days of Hall of Fame coach Dean Smith's tenure, and the Tar Heels promote the same on the football side. Multiple players Tuesday referenced their excitement about taking to UNC's practice field one last time, about competing with their teammates one last time.
But it won't be the last time some of them share the field, not with UNC's family of NFL players growing each year.