CHARLOTTE – One way or the other, Taylor Moton would be spending a good part of his Memorial Day weekend studying. 
  If he weren't 6-foot-5, 319 pounds with enough talent to be a second-round draft pick, he'd still be pursuing his MBA in business. Instead, Moton will keep cramming for his new job. 
  "I'm just a sponge right now, soaking up everything that the coaches are telling me to do," Moton said Thursday after the Panthers wrapped up their first week of OTAs. 
  Making the jump from college football to the NFL is tough enough. Moton, 22, has an extra learning curve – the Panthers want the natural right tackle to learn the left side, too. So he's an example of why teams are increasingly looking for guys who have more than raw talent.  
  "It's not an easy playbook we have, and his ability to pick it up as quickly as he has is tremendous," center Ryan Kalil said. 
  "I'm really, really excited about this kid. It's still early, but man, this kid is really strong, he's really athletic and he's really eager to learn."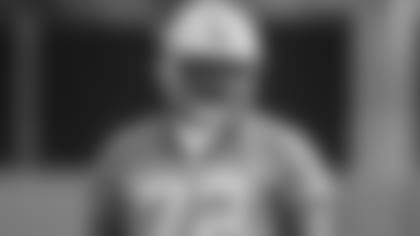 At Western Michigan, Moton earned a degree in accounting while starting a program-record 52 games. He hasn't had to watch a game from the sideline since his redshirt season in 2012, but that's where he'll likely be when the Panthers open the season in San Francisco. 
Moton is currently backing up Daryl Williams at right tackle and behind Matt Kalil and Williams at left tackle. If Michael Oher returns, Moton will drop down another notch.
  But that 'if' is why the Panthers used a second-round pick on an insurance policy. And it's why they're excited Moton's jumped head first into a schedule that leaves little time for anything other than football. 
  "I'm here at like 6:30 for a lift, then the team meeting, then we get ready for practice," he said when asked to describe a typical day.  
  "After practice, we have more position meetings. After that, we meet with a player development guy, and then we have rookie meetings. When I'm done with that, that's when I meet with the position coach again, and then I go on to study on my own when I get home. 
  "So I'm pretty busy, but I love it."
  But this is a guy who also loved studying things like finance, business law and taxation. Which may make you wonder: Which is tougher – studying for an MBA or for the NFL?
  "That's tough because this is different. It might have to be this playbook because there's a lot more that goes into the playbook and football in the NFL than there was in college," Moton said.

  "This is a huge adjustment, but I'm getting more and more used to it and I'm feeling really confident with it."