CHARLOTTE – Jordan Gross' value to the Carolina Panthers is best described by the men who played alongside him.
He was beloved, revered, respected. A player who built relationships with his teammates. Even the self-deprecating Gross couldn't hold back the emotions when he saw their faces in the crowd at his retirement press conference on Wednesday.
But the fun-loving Panthers weren't about to let this be a day of sadness. Center Ryan Kalil orchestrated one final prank for his partner in crime.
After Gross' closing remark came a surprise appearance from a Kalil-led barbershop quartet. The group belted out a hysterical "Happy Trails" number that left those previously in tears laughing out loud.
"Jordan and I were known for doing that stuff, and I just felt like it was fitting to end it on that for him," Kalil said. "It sounded a lot better in rehearsal. It was hard to do it, because I was getting a little emotional. Hopefully, it didn't sound too terrible."
Said Gross: "That was awesome."
Gross loved to joke with his teammates. And one by one they came by to share some more laughs.
Tight end Greg Olsen complimented Gross on all the weight he's lost (Gross said he's already lost 25 pounds) and poked fun at memorable lines from his pregame speeches.
Guard Travelle Wharton joked about fighting Gross for room to make a block in the trenches and wagers they made on their carpool trips to the office.
Right tackle Byron Bell – nicknamed Eeyore by Gross – handed Gross an Eeyore stuffed animal.
But jokes and pranks aside, several Panthers spoke about how honored they were to have Gross as their teammate.
Here is some of what they said:
Center Ryan Kalil: "I'm trying to put all this inside for now. I'm sure it will hit later. I'm just really happy for him. First and foremost, you think of his leadership. He was just such an incredible leader and he commands so much respect from the players. He's been a huge influence on my career. He's such a great guy, and I'm lucky to be able to have him as a friend."
Guard Geoff Hangartner: "For a large portion of this career, he's been the guy that took charge and led things and set the tempo. They'll find somebody that can play left tackle, but there won't ever be another Jordan Gross. He was one of the few guys – a star player that truly, his main concern was the team. He wanted to do well so the team would do well, not so that he would make more money or get more accolades. There aren't many guys like that."
Right tackle Byron Bell: "He means a lot to me personally – and not even about football. There's been days where I had personal issues, and I could just call him at any time and he'd come to my house and pick me up. This is a man with a wife and kids. He was a big brother. He helped me throughout my career. He taught me 'never too high, never too low. I'll never forget that you have to be even-keeled through the good and the bad. Gross has been very instrumental in my life and I'm thankful to have had him as a teammate.
"It's going to be a little awkward in the locker room and in the offensive line room. We would always talk about the looks we were getting from defensive ends, and I'm going to miss that. We're all going to miss him."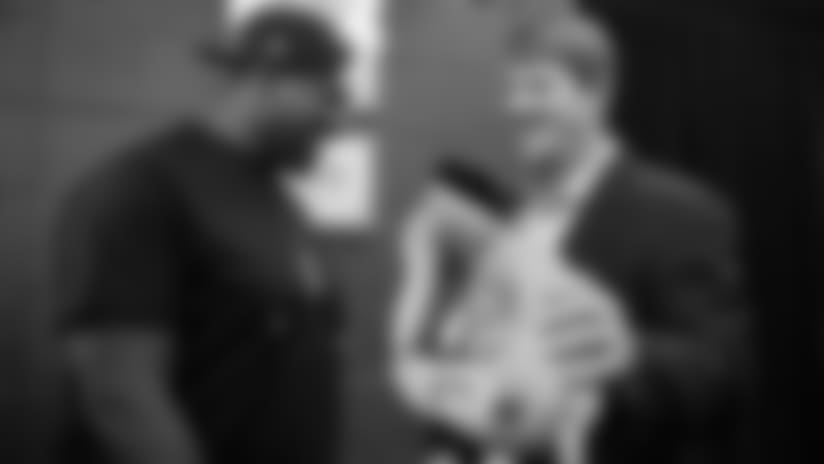 Wide receiver Steve Smith: "It's going to be different. But it's a part of life. It's a part of growing old. Your buddies move on. We've had multiple conversations about this day. It was hard to hear. It was sad.
"He's always going to be a captain. He's always going to be one of the greatest Panthers. I can say he's my friend, and that's the best part."
Guard Travelle Wharton: "You think it is going to last forever. This is going to be a huge void to fill – not just the football player but the person. He was the voice of the locker room. He means a lot. He meant accountability. He was all about competing at a high level. I'm proud of him going out the way he wanted."
Head coach Ron Rivera: "There's a lightheartedness to what Jordan brought. He's the consummate pro. I'm going to truly miss our conversations. At least once a day I could always count on talking about something with him. I will constantly miss his presence and who he is."