1. 2015 is firmly in the past: I asked general manager Dave Gettleman what his biggest takeaway from training camp was, and this was his response: "The biggest takeaway I have is we left 2015 behind. The guys did a great job, and it started with the OTAs. Ron (Rivera) delivered the message, and they've done a great job listening."
Throughout training camp, the Panthers showed no signs of a team resting on its laurels. Any concern about this group being too relaxed or complacent after a 15-1 season went out the window pretty quickly.
Practice was a competitive battleground each day. Quarterback Cam Newton and linebacker Thomas Davis kept the energy level high with their daily trash talk, and there was pride at stake during each team drill.
2. Funchess has taken a huge step: Body language can tell you a lot about a player's confidence. Every time second-year wide receiver Devin Funchess lined up, he had the look of a guy who believed he was about to make a play – and he sure made a lot of them.
"He's been doing some really nice things," head coach Ron Rivera said. "You see the growth. It's exciting to watch him out there."
Funchess got behind the secondary time and time again for long receptions. He ran smooth routes over the middle. In the red zone, the defense made sure to call out his whereabouts, knowing he'd be the likely target.
The former second-round draft pick said previously he wanted to prove the Panthers right for trading up to get him. He's well on his way.
3. Thompson has taken a huge step:Like Funchess, linebacker Shaq Thompson is a second-year player who finished strong as a rookie and carried that momentum into an outstanding training camp.
His one-handed interceptions early in camp displayed his natural athleticism and increased comfort in pass coverage. The former first-round pick was one of Carolina's top performers in the weight room in 2015, and the added muscle made him even more difficult to handle near the line of scrimmage.
Luke Kuechly and Thomas Davis were already the best linebacker duo in the NFL. The rest of the league is about to become a lot more familiar with Thompson.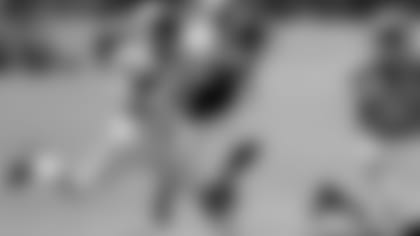 4. Continuity and cohesiveness showed up in practice: The Panthers practiced like a team that's been playing together for a while.
Offensively, the entire starting lineup returned from the 2015 season and as you'd expect, they were on the same page. Defensively, the large majority of the front seven returned.
As a result, pre-snap communication was excellent across the board. Defensive coordinator Sean McDermott always wants his players to talk prior to the snap, and the first-team unit needed no reminder. At times, it seemed like every member of the starting defense made their voice heard after laying eyes on the offensive formation.
5. Benjamin is back on track: It didn't take long for wide receiver Kelvin Benjamin to remind everyone how talented he is. After shaking the rust off, he made a series of spectacular catches during the first few days of camp.
He's still working on his conditioning, and the Panthers are closely monitoring his reps, but he's a difference maker when he's on the field.
A torn ACL wiped away what was going to be a monster 2015 season, but Benjamin is gradually recapturing that sensational pre-injury form.
6. The rookie corners eased concerns: The biggest question entering training camp: Will the rookie cornerbacks be able to handle so much responsibility?
So far, so good. All three of them made their share of plays.
"We're all real pleased with those guys," Gettleman said. "We're excited. What you don't know with any rookie – is the game going to be too big? It truly wasn't for those guys."
James Bradberry and Daryl Worley are the starting corners on the depth chart, and both of them possess a steady demeanor that you don't often see from rookie defensive backs.
7. Still looking for another reliable contributor at defensive end: Charles Johnson and Kony Ealy are the clear starters and Mario Addison is a proven speed rusher on passing downs, but the Panthers are still looking for a fourth defensive end to emerge.
There are a number of young options in the running, and we'll see if someone breaks through with an impact play or two during the final preseason games.
8. Turner's lofty goal is attainable: Guard Trai Turner told the media in Spartanburg that he wanted to be one of the best guards in the NFL.
If camp practices are any indication, that goal is within reach.
Turner, named to his first Pro Bowl last season, is an overpowering run blocker who continues to get better and better in one-on-one pass protection.
Amazing he's still only 23 years old.
9. Coleman has quickly made his mark: With the way he's established himself in Carolina, it seems unthinkable that the Chiefs and Vikings couldn't find reasons to keep Kurt Coleman around.
But their loss has been the Panthers' gain. Coleman is a natural leader, and with his energy and enthusiasm, he helped push the young corners through the dog days of camp.
Coleman, who led the team with nine total interceptions last season, was rewarded with a well-deserved extension when the team arrived at Wofford College.
His presence in the back end is extremely valuable.
10. Look out for Chuck: There isn't much buzz around veteran defensive end Charles Johnson, and that's just the way he likes it.
Johnson shed some weight in an effort to stay healthy throughout the 16-game schedule, something he's struggled with in recent years. And he's no longer playing under the pressure of that "big money" contract, which has taken a little more weight off his shoulders.
Johnson said he believes he has another double-digit sack season in him. I think he's right.
View the top photos from Carolina's training camp by team photographer Melissa Melvin-Rodriguez.