If the 2012 NFL Draft had broken a little differently, perhaps Dontari Poe would have been a Panther from the beginning.
Better late than never. And better to have both Poe and Luke Kuechly on the defense.
Some fans were clamoring for Carolina to use the ninth overall pick that year on a defensive tackle, and many of those were wishing for Poe after he put up an NFL Combine performance for the ages.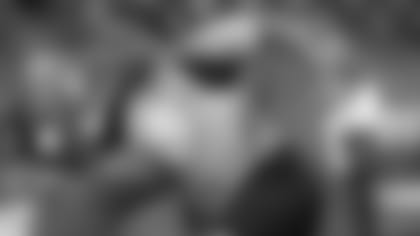 At 346 pounds, Poe became the darling of the combine by recording a sub-5.0 time in the 40-yard dash, clocking in at 4.98 seconds. He showed shocking agility in other drills as well while also displaying the strength you might expect from such a mountain of a man – and maybe even a little more with 44 bench-press reps, the top number at the combine.
His performance created a stir at the time, in theory pushing him from a late-first-round prospect to a consideration for the top 10. It put him in the conversation with Fletcher Cox to be the first defensive tackle drafted, and both were still on the board at No. 9. The Panthers, however, opted for Kuechly in that spot (Poe went 11th to the Chiefs, Cox 12th to the Eagles).
The Panthers recently signed Poe, a two-time Pro Bowler, to a three-year contract. He's expected to set the stage for the linebackers led by Kuechly to be even more productive in 2018 – if that's even possible.