CHARLOTTE – NFL players under 6-feet can sometimes share a kindred spirit. So it's not entirely surprising Carolina's shortest player had plenty of nice things to say about Miami's 5-foot-11 dynamo, Jarvis Landry.
"Sometimes I don't think he gets the respect he deserves because he's more like a slot guy," said 5-9 cornerback Captain Munnerlyn, who then smiled and cleared his throat. "That's how I feel, too.
"Playing the slot position, everybody's like, 'Oh, he's just a No. 3 guy.' No, he's not. He's their guy. That's where almost all the action goes on third down."
Landry, who many consider the NFL's top slot receiver, ranks second this season with 17 catches on third down. The man nicknamed "Juice" is also second in total receptions with 56. So even though the Dolphins rank 29th in passing yards and dead last in points scored, tracking Landry is a top Panthers' priority heading into Monday night's matchup. 
"He works the underneath very well. With the ball in his hands, he's a pretty dynamic guy," head coach Ron Rivera said. "And I agree (with Munnerlyn). I don't think he gets enough respect for his ability to go vertical."
Landry's longest catch this season is just a 29-yarder against the Jets in Week 7, but he's caught at least five passes in every game and has four touchdowns in the past five weeks. But the best proof of Munnerlyn's point is how little attention Landry has received nationally despite the historically productive start to his career. 
Since the Dolphins took him in the second round of the 2014 draft, Landry has caught 344 passes. That's already the most ever in a player's first four years – and he still has half of his fourth season to go.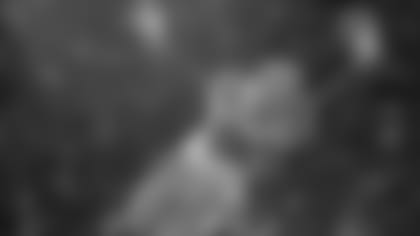 "He's one of the best pass catchers I've seen in my life," said Panthers wideout Russell Shepard, whose final two seasons at LSU coincided with Landry's first two with the Tigers. "The cat's been doing all that since he was at Lutcher High School in Louisiana.
"When all's said and done, he's going to have one of the better careers a receiver's had in this league."
When asked about his earliest memory of Landry, Shepard quickly recalled a story from the summer of 2009. 
"His junior year (of high school) he came to LSU for a senior camp and he had a cast on his right hand," Shepard said. "They documented all the drops and catches the guys had, and with the cast on his right hand, Jarvis had one drop the whole camp. And I think he caught like 50 balls. It was amazing to see this kid come to an upperclassmen camp and dominate with one hand." 
And that was before Shepard teamed up with Odell Beckham Jr., another one-handed magician who arrived at LSU the same year as Landry. 
So who's better – Beckham or Landry?
"People ask me that all the time," Shepard said. "They're different guys. 1A, 1B. One guy is going to catch literally everything thrown his way. The other guy is going to make something out of nothing. One guy is going to catch it with 10 guys on him. The other guy's going to catch the ball behind his head with two fingers. They're equally impressive."
Of Landry's most impressive games as a pro, the one he played against Munnerlyn wasn't one of them. That was back in 2014 when Munnerlyn helped the Vikings limit Landry to 31 yards. But Landry still managed to rack up eight receptions that day. 
"He's a guy you've got to get physical with because he's very physical," Munnerlyn said. "He doesn't take plays off."
Sounds like someone else we know, doesn't it? 
"I love my matchup against him. I'm a guy who's a physical guy, too," Munnerlyn said. "So best of luck to him on Monday."
View photos from the week of practice leading up to the Panthers' game against the Dolphins.