INDIANAPOLIS – Don't believe everything you read on the Internet.
It's a lesson that Notre Dame linebacker Manti Te'o learned on the grandest of scales, when the hoax that was his virtual girlfriend became the most talked about storyline on the World Wide Web last month.
His cautionary tale is the reason why media began crowding around a podium inside Lucas Oil Stadium at high noon Saturday, anticipating his first full-fledged media availability since the incident.
They gathered without official provocation, as the only formal announcements of interviews at the NFL Scouting Combine occur literally as prospects enter the room and make their way to their assigned station. Many in the media were reacting to a tweet sent out by NFL Network around noon: "Manti Te'o presser scheduled to begin within the hour."
Almost immediately, the area around Podium C – traditionally the podium that hosts the marquee player interviews – became standing room only. Then, as jokes flowed freely regarding the absurdity yet the necessity of grabbing a precious spot close to the podium based on a tweet, another tweet hastened a rapid disbursement.
"Been told by people who run physicals at NFL Combine that Manti Te'o won't be available to media until at least 3 p.m. ET," venerable NFL.com contributor Gil Brandt tweeted.
The area returned to normal soon after, with Brigham Young defensive end Ezekiel Ansah holding court at podium C to a more typical media crowd. But throughout the next 90 minutes or so, people still populated some of the seats in front of the podium even when no one was being interviewed, something that never happens.
They soon had company when, at 2 p.m., Brandt tweeted that Te'o would address the media in 15 minutes. At 2:14 p.m., as Te'o approached the microphone, the internal P.A. announced, "Manti Te'o, Podium C."
It was an unnecessary announcement given that everyone had again squeezed their way into the vicinity.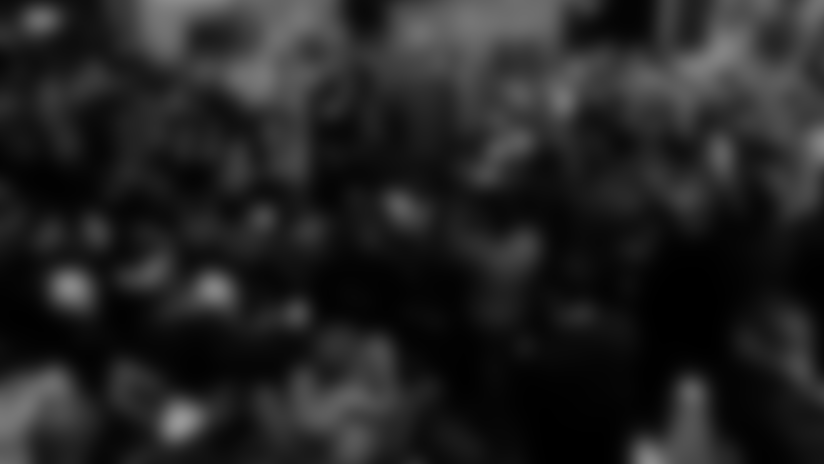 "It's pretty crazy," Te'o said early in the 14-minute press conference. "I've been in front of a lot of cameras, but not as many as this."
Te'o told the gathered group that he was embarrassed by his whole ordeal, embarrassed by the double-takes followed by stares at the grocery store. He said he's gotten over the embarrassment, that he wouldn't be standing on the stage if he hadn't.
He said as much as anything, he was embarrassed by the damage done to his last name, adding that his lowest moment was when his sister called to tell to him that his family had to sneak into their house because of the multitude of people hanging out for their return. Apparently, standing by for the arrival of a Te'o is nothing new.
Te'o took responsibility for his role in the ordeal and took responsibility for his disappointing play in the BCS National Championship game that shed some doubt on his playing ability. He plans to prove at the combine and in the weeks to come that he's a solid citizen and linebacker.
"Is he a good person and can he play football? That's probably the most important thing that he'll have to answer," Panthers head coach Ron Rivera said Thursday, when the majority of the coaches who addressed the media were asked about Te'o. "I don't think it's going to hurt his draft stock. He's coming here to improve his draft stock.
"I do think he's a heck of a football player, and I think he's got a bright future in this league."
Te'o concluded his press conference by thanking his family, friends and Notre Dame for their support and expressing his hope that people can now just move on.
And move on they did, the mass of media leaving the podium area as quickly as they had occupied it. Some would soon return as things returned to normal, with P.A. announcements rather than tweets summoning them back for more sound bites from the NFL Scouting Combine.