CHARLOTTE – Throughout the draft process, the name Christian McCaffrey and the term "Swiss Army knife" became nearly interchangeable, and the rookie has proven to be worthy of the comparison.
But while McCaffrey's many tools are on display every Sunday, the Panthers have a versatile, under-the-radar player on defense who remains in the display case until an emergency arises.
This only occasionally unsheathed jack of all trades?
"Oh man, Colin is my guy," cornerback Daryl Worley. "He's always going to play awesome. He's always going to do his part in what's going on.
"He's like a Swiss Army knife. He can do everything, and he's always in your back pocket when you need him."
The last two games, the Panthers needed him, and they could again in Sunday's home finale against the Buccaneers.
With equally versatile linebacker Shaq Thompson sidelined by a foot injury in Weeks 14 and 15, Jones emerged after playing exclusively on special teams for five games to reprise his role as a nickel corner. Earlier this season, when fellow safety Kurt Coleman suffered a knee injury, Jones saw significant action in a more traditional safety role for four games after not playing any defensive snaps the three weeks prior to Coleman's injury.
And this week, with Thomas Davis suspended, Jones may have stuck his head in the linebacker meeting room a time or two.
"I take the approach of just being able to help the football team whenever I can," Jones said. "Sometimes that means 16 to 20 plays a game on special teams only. Sometimes my role might be expanded depending on what we're doing that week on defense or the injuries we have.
"I take pride in being able to help wherever – safety, nickel, linebacker and obviously on special teams."
Last week against the Packers, Jones' hard work paid off in the form of a prized trophy – a football that he took away from quarterback Aaron Rodgers for his second career interception.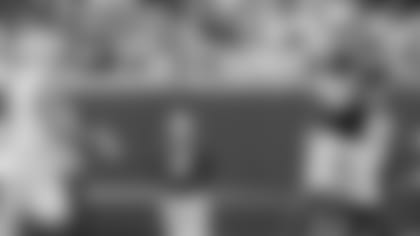 "I knew when he went out there on the football field he was going to be able to make some plays because he's always comes through for us," defensive coordinator Steve Wilks said. "Colin is comfortable within the system and the things that we do. He's very attentive in meetings. He's a very smart guy, and he exemplifies our DNA - he's physical, he's fast, he's tough.
"As I told him after the game, I said, 'I trust you.'"
Trust is hard-earned in the NFL, especially for a player coming from where Jones did. Selected by San Francisco in the sixth round of the 2011 NFL Draft out of Texas Christian (thus the "Frog" package that features Jones at nickel), the 49ers made no bones about why they drafted Jones.
And it was much the same on roster cutdown day in 2012, when Panthers general manager Marty Hurney traded a seventh-round pick for Jones.
"When they drafted me, they said, 'You want to play special teams?' That's why San Francisco told me they drafted me," Jones said. "But one thing (TCU) coach (Gary) Patterson did so well was that he made the starters play on special teams – even your senior year.
"He said, 'You'll thank me later.' Thanks Coach Patterson."
Jones has been a special teams stalwart for the Panthers from Day One but played in just one game on defense in 2012 – when linebacker James Anderson missed a late-season game against the Falcons and the Panthers started Jason Phillips (another TCU product) but featured Jones as an extra defensive back.
Jones saw 22 defensive snaps in that game/season, then played 33 snaps the next season, most notably in a Week 2 heartbreaker in Buffalo. Carolina's secondary was hit by a ridiculous rash of in-game injuries, thrusting Jones into the fray. He appeared to end the Bills' hopes with an interception, but a pass interference call on Luke Kuechly wiped it out, and Buffalo emerged victorious in the final seconds.
The next year, 2014, nickel corner Captain Munnerlyn was off to Minnesota, and the Panthers struggled to find a replacement. They turned to Jones when then-rookie Bene Benwikere got hurt and stuck with Jones even after Benwikere returned, but Jones suffered through some struggles.
At that point, many Panthers fans decided they had already learned what having Jones in the game meant. But Jones himself legitimately had more to learn.
"Me and Coach Wilks have been here the same amount of time, and he has helped me so much," Jones said. "When I first came here, I didn't really understand the concept of playing defense in an NFL system, and he enabled me to learn and grow as a defensive player.
"(Defensive backs coach) Curtis Fuller really helped me learn the nickel role a couple of years ago when I was really playing that, and then (assistant DBs coach) Jeff (Imamura) has fine-tuned some stuff this year. Also, getting to meet with (linebackers coach) Al (Holcomb) in the linebacker room has really helped me as far as run fits and understanding the game from a different angle."
Jones gained some consistency during the magical season of 2015, recording his first career interception – this time for keeps. His opportunities dwindled in 2016 with the drafting of Thompson, but this season the Panthers have again had to break out their defensive Swiss Army knife, with the best results to date.
"I was ecstatic for him," Worley said. "Just knowing conversations I've had with Colin, he's always waiting on an opportunity, just waiting and waiting.
"He doesn't like the backseat, but he has no problem moving up. When the lights are on, he definitely shines."
View photos from the week of practice leading up to the Panthers' game against the Buccaneers.