CHARLOTTE – Before Super Bowl 50, before Carolina became the league's top scoring offense, before the 14-game unbeaten streak, there was Kelvin Benjamin and his utter dominance at training camp in 2015.
The 6-5, 245-pound wide receiver was a machine on those Wofford College practice fields. Each day featured another Benjamin highlight – an acrobatic reception against the sideline, a deep ball behind the secondary, a tough catch in traffic over the middle.
He was the best player on the field -- a 24-year-old oozing confidence and emerging as the "lead dog" of the wide receiver group entering his second season.
"I knew coming in I was going to be a leader. I just try to set the tempo, and the guys feed off that energy," Benjamin said midway through training camp. "I've got guys looking up to me now."
The first preseason game at Buffalo only increased the excitement surrounding Benjamin. It was first-and-goal from the 2-yard line, and Bills cornerback Ronald Darby never really had a chance. Between Benjamin's size advantage and quarterback Cam Newton's ball placement, a touchdown on the fade pattern was always going to be the end result.
It was supposed to be a preview of what was to come. Instead, it was all we got to see.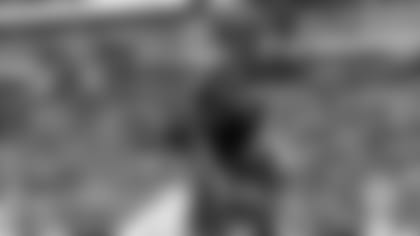 ---
Five days later, during the second to last practice of training camp, Benjamin's season ended. It was a non-contact injury during one-on-one drills. His anterior cruciate ligament was torn.
He was carted off the field, clutching his left knee, his face full of anguish.
Benjamin is one of those players who plays the game with unbridled, almost childlike enthusiasm. He's a big kid in a lot of ways, always finding reasons to smile through those challenging, sun-drenched Spartanburg practices.
Seeing it all taken away from him was hard on everyone.
"Obviously, we feel awful for Kelvin," general manager Dave Gettleman said after he was placed on injured reserve.
But the Panthers had no choice but to move on. It was time to figure out who was going to fill a massive void. For Benjamin, it was time to focus entirely on rehabilitation.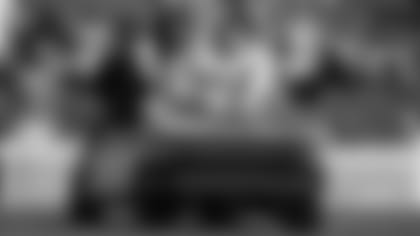 ---
Despite efforts to convince him otherwise, Benjamin had made up his mind. He didn't want to be in the team photo.
This is the harsh reality of season-ending injuries, particularly for those going through it for the first time.
If you're not practicing, not laughing with the guys on the walk back from practice, not participating in meetings, it's only natural to feel like you're not part of the team.
"I think it was very hard for him," head coach Ron Rivera said. "It's not easy to be removed from a situation like that. He wanted to play, wanted to be part of what we were doing. Unfortunately, he wasn't, and I know that really ate at him."
The first few weeks were particularly difficult for Benjamin.
"At first I just kept thinking, 'Dang, what did I do to deserve this?' What did I do to deserve this?'" Benjamin recalled.
As the season wore on, Benjamin started to reconnect with the team. When the brace came off, he returned to the sideline with his fun-loving personality during games.
The Panthers' sideline became the place to be. They reeled off wins and weren't afraid to celebrate them. At the end of games, Newton would encourage teammates to pose for the camera with him, and Benjamin joyfully joined in.
---
By the time the Panthers were practicing at San Jose State in the lead-up to Super Bowl 50, Benjamin had come a long way in his recovery. He was running on the side with athletic trainers; he was tossing the ball back and forth with teammates and coaches prior to team stretch.
Before one practice in San Jose, Benjamin could be seen pretending to jog out of the tunnel on game day. He was mimicking the roar of the crowd.
The day before Super Bowl Sunday, when the team gathered at Levi's Stadium for the customary team photo as the NFC Champions, No. 13 was in his rightful place, seated between wide receiver Brenton Bersin and quarterback Joe Webb. If only he was in his rightful place on the field a day later.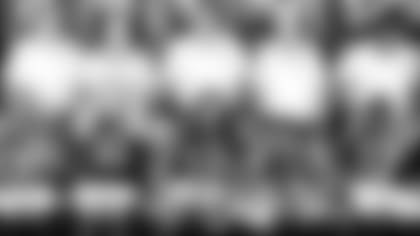 ---
On May 26, Benjamin participated in his first practice since tearing his ACL. He joined the Panthers during organized team activities and partook in individual drills.
"It is great to get back out here," Benjamin said. "It still sucks that I can't be doing the plays and competing, but it still feels good to be out."
Benjamin's return to practice energized teammates and fans alike. Adding such a special talent to the league's top scoring offense from a year ago is incredibly enticing.
But Benjamin is taking it one step at a time – directions he's been following through months of rehabilitation. He understood the importance of being cautious during organized team activities, aiming to be full-go when the team relocates to Spartanburg and he gets his long-awaited chance to pick up where he left off a year ago.
His quarterback can't wait to see his No. 1 wideout in action again.
"Benji," Newton said, "is coming back with a vengeance."