NEW ORLEANS – The Panthers entered Sunday's critical NFC South showdown against the Saints with two primary objectives on defense.
Stop the run to make New Orleans one-dimensional
Get Drew Brees off his spot
The objectives play into one another. Fail to shut down the run, and the New Orleans passing game orchestrated by a future Hall of Fame quarterback becomes much more difficult to disrupt.
"We have to do a great job of making these guys one dimensional," Wilks said earlier in the week. "When (the Saints) are able to run the ball on you and also incorporate play-action and dropbacks, you're exposing yourself to too much. We have to narrow things down."
Wilks' fears unfolded in front of him at the Superdome.
The Saints racked up 148 yards on the ground – 72 of which came on one play in the second quarter.
The Panthers were positioned well to stop the run with eight defenders in the box, but running back Mark Ingram exploded through a hole up the middle and raced down the sideline for the longest rush against the Panthers all season.
"It was an eight-man front. We can't let that happen," safety Mike Adams said.
Two plays after his 72-yard scamper, Ingram trotted across the goal line for a 3-yard score. It was one of three rushing touchdowns against a Panthers team that had allowed only four rushing touchdowns entering the game.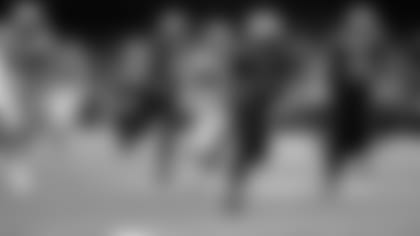 Kamara was a terror throughout, rushing for 60 yards on six carries and posting five receptions for 66 yards. The rookie often made the first man miss to turn routine plays into explosive ones.
"They spread you out," safety Kurt Coleman said, "so if you miss a tackle there is a lot of open space."
And as Adams said, Carolina "couldn't stop the bleeding."
With the Saints' ground game producing consistently, the Panthers weren't able to be the aggressors and get after Brees. Instead, they were off balance and susceptible to play-action. Brees often had plenty of time and space to step up in the pocket, which means trouble for any defense, no matter how highly ranked.
"We could have done more," said defensive end Mario Addison, who accounted for half of the Panthers' six hurries and two sacks.
"As a defense, we have to do a better job getting that guy off his spot and stopping the run," defensive tackle Kawann Short added. "We didn't take care of business."