SPARTANBURG, S.C. – To use the words of defensive line coach Eric Washington, the hoopla portion of training camp concluded on a steamy Sunday afternoon when the Panthers took the field for their first padded practice.
"We don't worry about the sun," defensive end Mario Addison said. "We bring the heat."
Pads invariably heat things up on the field. And in pads, the true essence of the game is revealed.
"You can see the effectiveness or the ineffectiveness some players have once they are in pads," head coach Ron Rivera said. "Some guys will stand out. Some guys will show you exactly who they are. We've been anxious to get into pads to find out what we have.
"We'll break this tape down and get an opportunity to really see what's going on."
Practice began with a version of the "bull in the ring" drill and rookies Trai Turner and Kony Ealy were among those selected to partake with teammates circled around them.
Later, the team focused on run fits in a nine-on-nine session. Running back DeAngelo Williams and safety Roman Harper met in the hole to provide the first of many audible thuds.
"To get the feel of actual football and get to pop people a little bit, that felt good," offensive tackle Nate Chandler said.
Drills that pitted offensive linemen versus defensive linemen featured intense individual battles – none more intense than the pairing of Amini Silatolu and Star Lotulelei.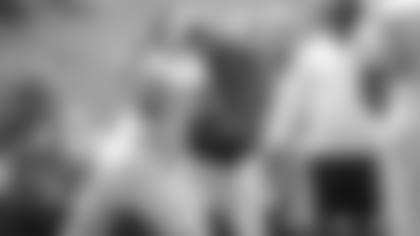 Team drills included a series of nice connections between quarterback Cam Newton and his tight ends, who made some difficult catches downfield.
One of those tight ends, Brandon Williams, was carted off the field with cramps. Safety Anderson Russell was also forced out of practice early with cramps.
"We're pretty fortunate we only had two guys cramp up," Rivera said.
When asked to evaluate his team's first padded performance, Rivera liked the intensity but saw plenty of room for improvement.
"One thing we are trying to emphasize is tempo and doing things fast. That's what we are getting accomplished," Rivera said. "It was a little sloppy, and I think part of it is getting to understand what our tempo is now that we are in pads. I talked about that with the guys after practice. They have to understand how we practice in pads. I expect a better practice tomorrow."
---
Rivera said he hopes to have the starting offensive tackle situation sorted out by the second preseason game. Playing against the Buffalo Bills and Kansas City Chiefs will help provide answers.
"We are going to play two good pass-rushing teams when we get there," Rivera said. "Buffalo is a good pass-rushing team. I hope they play their first bunch of pass-rushers a good spell. Kansas City is a good pass-rushing team as well. The real true test will be against good pass-rushing players and teams when we get into the preseason."
---
As a result of rookie running back Tyler Gaffney's season-ending knee injury, the Panthers signed running back Fozzy Whittaker, who spent time with the Cleveland Browns and San Diego Chargers last season.
The team also signed safety Tom Nelson, who has played in 24 games in three seasons with the Cincinnati Bengals and Philadelphia Eagles.