SPARTANBURG, S.C. – Linebacker Thomas Davis began negotiating a contract extension before Dave Gettleman was relieved of his duties as general manager last week, and Davis has continued that process with Marty Hurney reinstated into the GM role on an interim basis.
Davis bristles at any suggestion that contract issues involving him and tight end Greg Olsen precipitated the regime change, saying that such things lie beyond his pay grade.
As for what his pay grade will be when the dust settles? He has a vested interest, of course, but it's not what he's most interested in.
"At the end of the day, I'm here. I'm excited to be here. Carolina is my home, and it will always be," Davis said. "Let the business side of things take care of itself when it happens. For me, I'm totally focused on training camp and getting better as a player."
Word circulated before Gettleman departed that Davis hoped to work out an extension of his contract, which is set to expire after the upcoming season, as soon as possible. Then, when Gettleman was let go eight days before players reported to training camp, rumors swirled that the lack of an extension for Davis or of a new contract for Olsen (under contract through 2018) led to the GM change.
"Extremely irked," Davis said. "Some of the stuff being said is unbelievable with the two guys that were being talked about. You think about myself and Greg Olsen and what we try to represent and what we try to stand for not only as players but as pillars of our community and leaders of this football team, last week was totally unfair and uncalled for with some of the stuff that was being said.
"At the same time, it comes with the territory. We understand it, but at the same time we don't lose sight of the task at hand."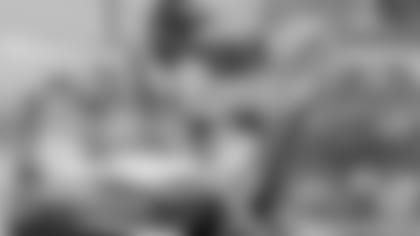 Davis, on a couple of levels, counts himself fortunate that at what is considered an advanced age for linebackers (34), a contract extension is even on the table. First, he thanked the Panthers for being willing to come to the table given that he's under contract through the end of the season. He said talks began under Gettleman, saying they were neither good nor bad but sharing that Gettleman marveled at Davis' high level of play given the tread on his tires.
And that, ultimately, is why Davis is excited to be engaged in contract talks. He knows he's in an enviable position for a linebacker technically entering his 13th NFL season. Having now recorded more than 100 tackles for five seasons running, he ironically can credit some of his longevity on his painful injury history.
"I can actually look at that situation and say there was some good in it," said Davis, who in 2012 became what is believed to be the only NFL player to successfully return from three torn anterior cruciate ligaments in the same knee. "I think it's helped my body in amazing way. You think about two-and-a-half years of not taking the normal pounding that a linebacker would have at the age of 34 – I'm seeing the benefits of it now."
Davis said that if mental toughness was all that was required to keep doing his job, he could play for 10 more years. But he acknowledges that it's more of a year-to-year prospect given the physical nature of the game – though he doesn't feel like a football player in his mid-30s and certainly isn't playing like it.
"My body feels great," Davis said. "I feel like I have a lot of years left in me – maybe not a lot of years but a few years to play this game. Until my body says otherwise, I'm going to continue to pursue that."
View photos of players as they report to Panthers training camp at Wofford College.