CHARLOTTE – Before Panthers players went their separate ways for the offseason Monday, veteran linebacker Thomas Davis was asked if he thought the team as it's currently constructed still has time to make a postseason run.
After saying the window remains open, he acknowledged that his personal window could be closing.
"Being in my 13th year, I'm pretty sure coming back next year that it will be in a reduced role," said Davis, who is under contract through next season. "Shaq (Thompson) has definitely earned the right, and when you look at (David) Mayo, he's coming along. Obviously we still have Luke (Kuechly) here who is playing at an extremely high level.
"So we'll see. We'll see how it goes."
Davis clarified that he doesn't plan on simply accepting a reserve role but said "that's the nature of the NFL."
It's worth keeping in mind that Davis' comments came immediately on the heels of what he called a "tough year" for him physically – and that's saying something coming from a guy who has epitomized toughness by playing in all but three games over the past six seasons following a third torn anterior cruciate ligament in his right knee.
The only game Davis missed this season was the next-to-last one of the regular season. That was because of a suspension for a helmet-to-helmet hit rather than an injury, but Davis suffered a broken rib back in Week 3 that had lingering effects.
"I'm definitely not sitting here saying that I'm conceding to becoming a backup by any means, but it was a tough year for me dealing with a bunch of injuries and not really being able to go out there and perform like I know I'm capable of performing until like the last couple of weeks of the season when I completely felt fresh, felt healed," he said. "I had a huge setback early in the season with the rib injury that caused a lot of problems for me. If you play this game long enough, things are going to happen to you. You just have be able to endure enough to come back from them."
Davis was still plenty productive, with 88 tackles, but it did snap a streak of five consecutive 100-tackle seasons. He played 791 snaps in the regular season after topping 1,000 each of the previous two seasons and had four tackles while playing every defensive snaps in Sunday's playoff loss at the Saints.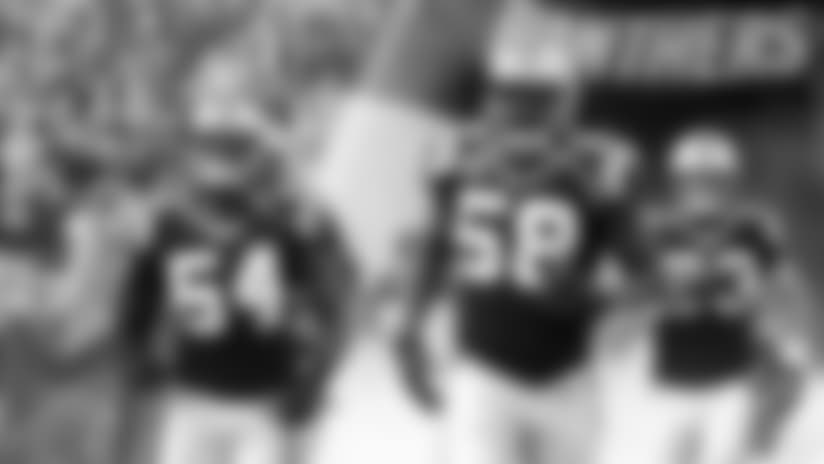 Thompson played a career-high 640 snaps and recorded a career-high 75 tackles, and he tied for the team lead with eight tackles in the playoff loss. Thompson played 365 snaps as a rookie in 2015 and 534 snaps in 2016.
"I have progressed since my rookie year. My role has gotten bigger, and I'm going to get ready for next year and see what my role is," Thompson said. "I'll be ready, but my whole mindset is that I've still got to compete and win that spot. It's not going to be handed to me. That's my whole mindset; I've got to go earn it."
Davis no doubt will make Thompson work for it, and Davis isn't ready to just ride off in the sunset.
"I definitely think the window is still open. We have a bunch of young guys on this team that we depend on and a number of veteran guys we also depend on," said Davis, who was later asked if he could see having a role like Julius Peppers did this past season. "If I'm in a limited role, I hope I have the production he had. Pep had an amazing season."