CHARLOTTE – Thomas Davis couldn't believe it had happened again.
In 2011, nearly two years after tearing the anterior cruciate ligament in his right knee and more than a year after doing it a second time, the same thing happened a third time.
Against that backdrop, Davis could hardly believe what happened Tuesday.
Mere moments before boarding a plane bound for Nashville to continue preseason preparations for the 2017 season, the star linebacker signed a one-year contract extension that runs through 2018.
"Knowing and understanding where I've come from since 2011, when I tore up my knee for the third time and thinking that my career that was going to be over – not knowing that there would be an opportunity for me to continue to play this game – to be sitting here at this moment is a blessing," Davis said. "It's all about giving max effort because you never know when that last play is going to be."
Davis thought his last play had come way too early when, during his second game back after missing the final nine games of 2009 and all of 2010, his knee failed him yet again. But after a brief moment of self-doubt, he decided to set out to become the first player in NFL history to return to the field following three torn ACLs in the same knee.
He didn't just return. He didn't just return to form. He returned and became a better player.
Since completing his comeback, Davis has topped 100 tackles five consecutive seasons and enters 2017 as the Panthers' all-time leader with 1,086 tackles. A first-round draft choice in 2005, Davis has 653 tackles in 78 games since his 2012 return after totaling 433 tackles in his first 71 games.
Ten of Davis' 13 career interceptions have come since 2012 – second most (behind Luke Kuechly) among linebackers in the league over that time period.
Davis has gone to two Pro Bowls – his first two Pro Bowls - since returning and has been honored Walter Payton NFL Man of the Year.
And at age 34, he's showing virtually no signs of slowing down.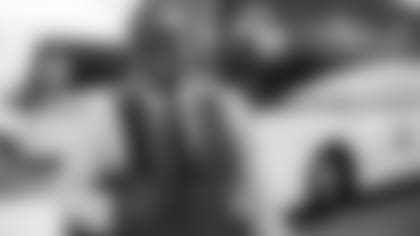 Davis arrives at airport Tuesday for flight to Nashville for practices with Titans.
"I don't take a single day for granted when I step on the field," Davis said, reflecting on the unexpected gains he made from the loss of nearly three seasons. "Really those three years allowed me to become the player that I've become – not only keeping my body fresh but ultimately making me focus in on never taking a play off.
"It's about always putting in the best effort, putting your best foot forward. That's what I've been able to do these last five years and why I'm sitting in the position I'm in right now."
In an interview when training camp opened for the Panthers three weeks ago, Davis said he hoped for a contract extension beyond 2017 but that his focus remained on the football field. He expressed confidence that the business side would take care of itself.
Tuesday, he put the business at hand behind him – perhaps once and for all.
"I would venture to say that this will probably be my last contract," Davis said. "I'm excited about signing it and am just really looking forward to what this season holds for this team.
"Everybody knows how I feel about being a Carolina Panther. This extension solidifies me being here for the rest of my career, and I'm excited about that. Now it's totally focused on winning a Super Bowl."
View some of the top photos of the Panthers linebacker and team captain in action.