CHARLOTTE – Wide receiver turned tight end Marcus Lucas has caught a lot of passes in his return to the Panthers, but will he catch on with the Panthers?
"You've just got to leave it in God's hands. You've just got to give your best effort each and every day, treat every day basically like a game day," said Lucas, who capped his latest game day with two touchdown receptions in the waning moments of Carolina's preseason loss to New England. "They have welcomed me back, and I'm getting a fair chance to show what I can do and try to make this team."
Lucas' first NFL stop was as an undrafted rookie wide receiver signed by the Panthers in 2014. He spent the season on Carolina's practice squad as a wide receiver but spent the 2015 offseason with the team as a tight end. He was waived prior to last season and spent times on practice squads in Miami and Chicago.
"In the passing game, I feel like, yes, there's an advantage for me going from playing against cornerbacks to now playing against linebackers or safeties because they cover completely different," Lucas said. "But in the NFL at the tight end position, you have to be able to do it all. You have to be able to play lineman, receiver, a little bit of fullback. You're playing multiple positions in one."
Lucas says using the example set by tight ends Greg Olsen and Ed Dickson and with the guidance of "Coach Pete" – tight ends coach Pete Hoener – he continues to make strides toward mastering the position.
"He's made great progress. Versus a year ago, he's getting closer," Hoener said. "His biggest thing is transitioning over into all the blocking and pass protections and everything you have to do to be a complete tight end because we don't have specialty players.
"We don't have just a blocker. We don't have just a receiving tight end. They've got to play it all. That's been the toughest thing for him."
Lucas was one of seven tight ends under Hoener's watch most of the preseason, a number that dwindled to six with the decision to waive rookie Braxton Deaver on Sunday. That served as a reminder that while they all appear to have either ability or potential that could warrant roster inclusion, realistically they won't be on the roster in about a week.
"It's a great problem to have because the competition makes them all better," Hoener said, "but at the end of the day it's about what they show on the tape."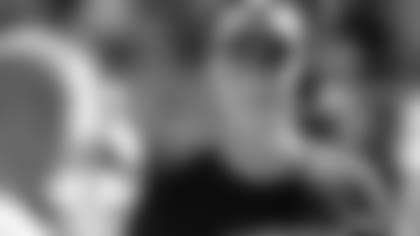 Hoener knows what he has in Olsen and Dickson ("They're doing a great job," he said). Here's what he's seen from the others:
On Scott Simonson, who played in nine games last season and recorded his first NFL catch: "Scott's another one that has consistently improved since last year. He worked his way last year into being the third guy, and he's fighting his butt off to keep that position."
On rookies Beau Sandland (seventh round): "The good thing I've seen is consistent improvement from the time we started. It's a hard position to play because of everything they're asked to do – not only the technique of it but also learning what to do, how to block, what route to run and who you have in protection and where you line up and on and on and on. Our system is not easy, but I've seen constant improvement, and that's always a good sign."
On rookie Eric Wallace, an Australian Rules Football player who last played football in eighth grade: "The hard thing is you'd like to see a guy like that show up in the offseason so you have enough time to prepare him for games. But he's been doing a great job. He's got great physical attributes. It's just a matter of how fast he can learn it."
View photos of practice from the fourth week of the preseason.