INDIANAPOLIS – It's good to have friends in high places, and Michigan tight end Jake Butt has made a friend at the height of his profession.
"We've had some good conversations," Butt said. "It would be nice playing with him."
Butt was referring to Greg Olsen, the Panthers' perennial Pro Bowler who became the first tight end in NFL history this past season to log three consecutive 1,000-yard campaigns. A couple of podiums down from Butt at the NFL Scouting Combine, Alabama tight end O.J. Howard also invoked Olsen's name.
"A guy I'd compare myself to right now would be Greg Olsen of the Panthers," Howard said. "I think Greg does a great job of blocking. He's a guy who's a three-down tight end. He runs great routes. He has great hands. He's a guy I studied a lot on film in college."
Butt, who said "all tight ends are working toward" being the player that Olsen has become, was able to strike up a relationship because the two share a financial advisor.
Butt and Howard certainly could use a good financial advisor because their payday is just around the corner. Both have a good shot at being selected during the first two days – the first three rounds – of the draft, with some projecting Howard to go in the first round.
The Panthers are happy to have Olsen, but they wouldn't mind adding more talent to the tight end room, either.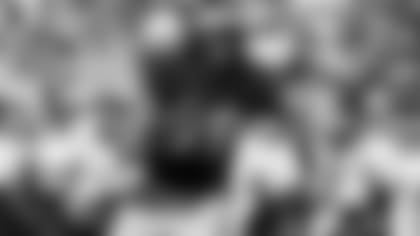 Howard and Butt had decidedly different experiences in postseason bowl games that left them in decidedly different places approaching the draft. Howard made the decision to compete in the Senior Bowl while some of his peers passed, and it proved a wise move because he excelled there and appeared to improve his draft stock.
While a few top draft prospects made much-debated decisions to sit out their teams' bowl game, Butt never considered such. Then, in a narrow loss to Florida State in a classic Orange Bowl, he suffered the second torn anterior cruciate ligament of his career.
"I wouldn't change it going," Butt said. "I was a leader on that team, I'm a captain, I love that university and just the kind of player I am, I would never sit out of a game."
As a result though, Butt will be sitting out all the drills at the combine and might be able to do the bench press at his pro day but nothing else. He does expect to be cleared to run before the draft and be able to return to football drills around time for training camps in late July. In regard to the rehab process, Butt said he's ahead of where the "average man" would be at this point.
Only time will tell if Butt's injury will impact his draft slot, but how he's handling it seems similar to the way Olsen might handle it.
"He's a great player on the field. We all know that," Butt said of Olsen. "But for him to reach out to me, spend time talking to me, taking time out of his busy schedule and preparing me for this process, that just speaks to the kind of guy he is too.
"I hope to be the same player he is someday. I think that's what all tight ends are working toward. But even more so, to be the same man."