CHARLOTTE – The Panthers' offensive line has gotten some well-earned shine for the improvements in the run game. But Cameron Erving, the veteran backup tackle with eight years in the league, doesn't believe praise should stop at the group up front.
He'd suggest paying more attention to the role Carolina's tight ends have played in the rushing improvement. It may be a bigger one than the casual viewer realizes.
"It goes unnoticed a lot of times, but tight end is one of the harder positions on the field to play," Erving said. "They have to know what to do in the run game, pass game, and everything in between – all the motions and different things they have to do. And those guys have been doing a tremendous job."
Carolina has averaged 146.2 rush yards per game in its last five outings, up from 89.8 per game in the first five.
Offensive coordinator Ben McAdoo said he sees a set of four different skill sets in the Panthers' tight end room. When it comes to Ian Thomas, Tommy Tremble, Stephen Sullivan, and Giovanni Ricci, there's as much variety in how they play as there is in who they are as people. It all helps the operation move together.
The Panthers have worked to create an "identity" upfront, McAdoo said, and the role tight ends play in executing that – whether they're setting up blocks or running routes – has played its part.
"Whether it's in-line, whether it's as the 'move' guy, whether it's on the perimeter or from the backfield, they all have their strengths, they all help, and it's important to them," McAdoo said. "Just like the big guys inside, we want to keep progressing there, and keep adding to their arsenal as we get going."
The "arsenal" of skills McAdoo alluded to is already a crucial part of the position, which the group is happy to divulge. Thomas, a five-year veteran, said tight ends could go from running past the same players as a receiver to blocking the same players as linemen, so they've had to learn how plays break down at a core level.
"Everything really is kind of like knowing as much as the quarterbacks know," Thomas said. "You have to know the calls for the linemen; you have to know the checks the receivers get, the checks the line gets. … You're like an underdog at it because it's so weird, the dynamic of the position. You have to have a certain mindset to play tight end."
Thomas, Ricci, and Tremble had unique and winding paths to becoming tight ends. Thomas said he had seen plenty of people who used to play basketball convert to the position. Ricci was a high school quarterback who played receiver at Western Michigan before he was encouraged to make the switch.
It can be about size, as a larger receiver could grow into a tight end, or it could be about developing a new set of skills, as a more physical athlete could be tasked with adding more versatility to his game.
Ricci said playing tight end has expanded his knowledge of football, going from a college wideout who admittedly knew little about the run game to an NFL tight end and sometimes-fullback who knows much more about how the pieces move together.
"(You) definitely just feel like you have an impact on every play, whether you're blocking, running a route, or things like that," Ricci said. "It's definitely a position where as much as you're asked to do physically, mentally learning the position has taught me a lot about the game itself."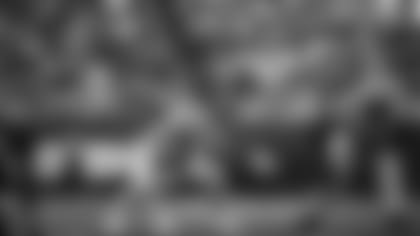 Tremble saw himself as a defensive player as he went into high school. But he played the bulk of his time at tight end instead and found joy in going against the players he used to line up alongside on defense.
"I think the best athletes on the field are the defensive ends and defensive line; I know they may not (play) the hardest position, but those guys are freaks," Tremble said. "It's hard blocking those guys, who are 30, 40 pounds heavier than you. It's hard, but it's also the best thing ever when you give a pancake (block) or something like that. It's honestly a very satisfying feeling."
But when it comes to getting the glory on those blocks, the tight ends may only sometimes hear it. And that's just part of the deal.
"Especially in our room… It's just like some of the most freakishly athletic people I've ever seen, and just great guys who love the game of football and love this team," Ricci said. "(They're) definitely giving their all every week, and I know they may not go as appreciated as they should."
Thomas said the group will happily give each other shoutouts in team meetings. Thomas said he or practice squad tight end Colin Thompson sometimes go out of their way to point out a block or key move from the tight end while reviewing film.
For one, McAdoo has taken notice of Thomas' skills in the run game, and he heaped praise upon him.
"Pound for pound, he's one of the better blockers in this game anywhere," McAdoo said. "He gets matched up a lot of times; teams will put big ends out there, some heavy bodies on him, and you know he'll play physical, heavy-handed with those guys, and he'll battle and give you a lot of effort.
"He doesn't say boo about it. He's an ultimate team guy, and he allows you to go out there and have success running the ball. Where some teams may have to hide those guys a little bit, with Ian, we don't. We just put him out there front and center, and he has no problem stepping up to the task."
Though attention isn't a requirement, Thomas admitted it's nice to receive it. When he heard of Erving's shoutout to the tight ends helping block for the run, Thomas couldn't help but grin about his teammate's appreciation.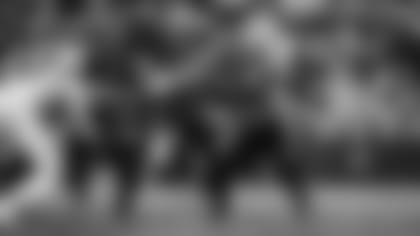 "We just do our job," Thomas said. "That's what we've got to do. It's just a scheme that we run. We just have a 'want-to,' like wanting to do it. I feel like, as a position group, the tight ends, we have a lot of 'want-to.' It works out both ways, helping the running backs, receivers, the quarterback, and of course, the linemen. (We) put a lot of effort into it."
Tremble said the effort of the job pairs well with the spirit of the players in the group. Over the summer, he and Thomas attended Tight End U, an NFL event founded by former Panther Greg Olsen, Kansas City's Travis Kelce, and San Francisco's George Kittle, focused on training young tight ends. After working out, watching film, and spending time with more than 50 of their brethren, Tremble insisted those who play the position are the kind of football guys you want to hang out with after hours too.
"We're fun guys," Tremble said. "I think we love the game, and we have a good time. … That's how all the guys are. They're cool dudes."
The joy of playing isn't lost on Tremble, who said he grew to love playing at tight end because there's never a dull moment, practice, or game week – even if he doesn't hear all the praise all the time.
"It's super fun because I get to challenge myself every day," Tremble said. "Being able to go against the best, it just makes this job more fun. I know I'm getting a challenge every week. I don't have an off week. And that's always fun to me; if I had an off week, it would be boring."