SAN DIEGO – During the first quarter of Sunday's 31-7 win over the Chargers, running back DeAngelo Williams sat next to fullback Mike Tolbert on the sideline and expressed his lighthearted disbelief.
"Who would have thought, we are in San Diego up 14-0 in the first half and Mike Tolbert has two touchdown runs," Williams said to his teammate, a former Charger.
"(Mike) laughed and said, 'What are you trying to say, I should have three?'"
Two first-quarter scores were plenty gratifying for Tolbert, who spent the first four years of his NFL career in San Diego.
His first touchdown came on a 1-yard run to cap the game's opening possession. Tolbert took a handoff and launched himself over the pile to give Carolina the early lead.
"They don't think a little fat man can jump," Tolbert joked, "but I can definitely get up."
He kept both feet on the ground for his next 1-yard score, which came on the Panthers' next possession.
"To get the first touchdown was great," Tolbert said. "Then to get the second was like, 'Whoa.'"
But those nimble feet, which did plenty of dancing in the end zone, didn't stay grounded for long.
"I'm on Cloud Nine right now," Tolbert said, still beaming in the locker room. "Scoring the first two touchdowns back here is indescribable."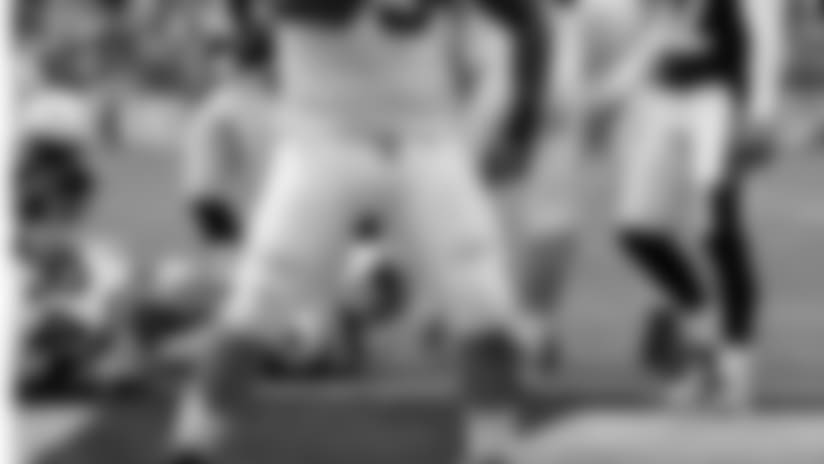 Along with the two scores, Tolbert finished with 40 yards rushing on nine carries and added two receptions for 24 yards.
"It was a satisfying feeling, being able to come in here and have our team dominate the way we did," he said. 
Coaches and teammates alike enjoyed watching Tolbert succeed in his first game against his former team.
"He was a lot of fun to watch," said head coach Ron Rivera, who like Tolbert, spent four years in San Diego. "Mike played with a little incentive. Obviously, he loved San Diego, his wife's family is from here. He wanted to come back and play well."
Added left tackle Jordan Gross: "I know it was really important to Mike to have a big day, and he did."
Several Carolina coaches entered Sunday's game with a similar mindset. In addition to Tolbert and Rivera, offensive coordinator Rob Chudzinski and secondary/pass defense coordinator Steve Wilks previously coached in San Diego. Offensive quality control coach Scott Turner also happens to be Chargers head coach Norv Turner's son.
Those coaches may not have scored and celebrated like Tolbert, but they all shared in the excitement of Sunday's dominant victory in a stadium they once called home.
"I'm happy for every single person that stopped in San Diego," quarterback Cam Newton said. "We have a lot of coaching staff members that were here in previous years. For them to come back and see a lot of people that they know, and get a win, it (means) a lot."