The NFL Draft is the lifeblood of roster building, but evaluating talent for the draft has been aptly described as an inexact science.
Still, the Panthers have had their share of success over the course of their 25 drafts. In honor of the Panthers' Silver Season, here's a look at the 25 best draft picks in franchise history, presented by position:
QB: Cam Newton, Kerry Collins
The lone No. 1 overall selection in franchise history became the lone player to wear jersey No. 1 in franchise history - and Cam Newton has lived up to the lofty standards associated with the number. The top pick in the 2011 draft has been a game changer with his ability as a passer and his escapability as a runner, earning NFL Offensive Rookie of the Year honors and in 2015 NFL Most Valuable Player recognition.
Carolina held the No. 1 overall pick in its inaugural draft in 1995 but traded down to No. 5 and took Collins. Veteran Frank Reich was the Panthers' starting quarterback for the team's first three games, but then Collins took over and was the starter for the franchise's first three-plus seasons, helping Carolina advance all the way to the NFC Championship game in its second season of competition.
RB: Jonathan Stewart, DeAngelo Williams, Christian McCaffrey, DeShaun Foster
The Panthers have used first-round picks on running backs four times in franchise history. By the end of the franchise's 25th season, all four could rank among the top five running backs in terms of rushing yards in franchise history (quarterback Cam Newton ranks third).
With a 1,000-yard season in 2019, Christian McCaffrey, in just his third year, would trail only fellow first-rounders Jonathan Stewart and DeAngelo Williams and second-rounder DeShaun Foster in running back yards. McCaffrey would pass Tim Biakabutuka, the fourth first-rounder whose career was short-circuited by injuries.
Foster also struggled with injuries, but left an indelible mark with his postseason performances. He made two iconic touchdown runs during the Panthers' run to the Super Bowl at the end of the 2003 season and rushed for a still-team-record 151 yards in a 2005 playoff victory.
WR: Steve Smith, Muhsin Muhammad, Mark Carrier
Steve Smith ranks eighth in NFL history in career receiving yards. Muhsin Muhammad ranks 31st. That's a pretty good return on investment for a third-round pick and a second-round one.
Smith was selected 74th overall in the 2001 draft and was viewed as a special teams weapon who could develop into a serviceable receiver. He returned the opening kickoff of the 2001 season opener for a touchdown and landed on the Pro Bowl team as a special teamer – but of course that was only the tip of the iceberg.
Muhammad, picked No. 43 in the 1996 draft, was well-established when Smith came along. In both 2002 and 2003 they combined for more than 1,700 receiving yards, playing key roles in Carolina's run to Super Bowl XXXVII, where Muhammad caught an 85-yard touchdown that still ranks as the longest reception in Super Bowl history.
Speaking of return on investment, Mark Carrier was a 16th-round draft choice – in the 1995 NFL Expansion Draft. The expansion Panthers and Jaguars took turns picking players not protected by their 1994 teams, selecting 66 in all. Carrier was the 32nd player taken and proved the Panthers' most productive pick, racking up 1,002 receiving yards in 1995 (including the first touchdown in franchise history) and totaling 2,547 yards in four seasons, still ranking (a distant) third behind Smith and Muhammad in team annals.
No tight ends appear on this list and only one (Wesley Walls) appeared on the top 25 free agent signings in franchise history. Yet a list of the best trades in franchise history no doubt would begin with Greg Olsen acquired just before training camp in 2011 in exchange for a third-round pick. Olsen has been the one constant in the passing game during the Newton era, peaking when from 2014-16 he became the only tight end in NFL history to post three consecutive 1,000-yard seasons.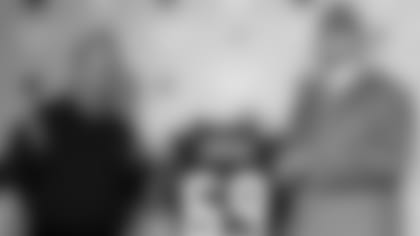 OL: Ryan Kalil, Jordan Gross, Trai Turner
A 2007 trade of draft picks worked well for the Panthers as well, as Carolina used a second-round choice acquired from the Jets to select Ryan Kalil. The center was the anchor of the Panthers' offensive line for a decade, earning five Pro Bowl nods along the way.
Kalil's run at center coincided with close friend Jordan Gross' tenure at left tackle. Gross was the eighth overall pick in the 2003 draft, but he started every game (and played every snap) at right tackle as a rookie when the Panthers reached the Super Bowl. Gross shifted to left tackle in 2004 and never looked back, starting there the next 10 seasons while missing just nine games.
Gross didn't quite overlap with Trai Turner, a third-round selection in 2014 who took over as starting right guard midway through his rookie year and then took off in 2015, earning the first of four consecutive Pro Bowl trips.
DL: Julius Peppers, Charles Johnson, Mike Rucker, Kris Jenkins, Kawann Short
While the teams on either side of the Panthers atop the 2002 draft took quarterback, at No. 2, Carolina drafted a man who would terrorize quarterbacks for years – and years – to come. Julius Peppers retired after the 2018 with 159.5 sacks to his credit, the fourth most since the NFL began tracking the stat in 1982.
After Peppers left Carolina following the 2009 season (he returned for 2017 and 2018), Charles Johnson began establishing himself as the team's sack leader. A third-round choice in 2007, Johnson retired following the 2017 with 67.5 sacks for the Panthers – second most to Peppers' 97.
Johnson didn't get much run as a rookie in 2007 on a roster that featured Peppers and Mike Rucker on the ends of the line and Kris Jenkins (and free agent signing Ma'ake Kemoeatu) in the middle. Rucker, a second-round selection in 1999, recorded 55.5 sacks in a nine-year career spent entirely in Carolina. Rucker retired after the 2007 season and Jenkins was traded to the Jets, but not before the second-round pick in 2001 earned three Pro Bowl nods in seven seasons.
It's hard to say what second-round defensive lineman is the best in Panthers history. In 2013, the Panthers added another defensive tackle to the debate by selecting Kawann Short, who broke out with 11 sacks in 2015 (tied for league lead among defensive tackles) to earn his first of two Pro Bowls trips to date.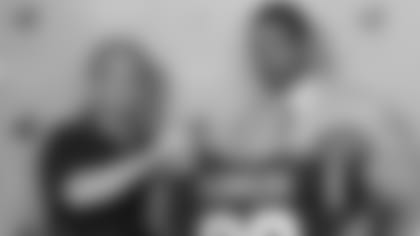 LB: Luke Kuechly, Thomas Davis, Jon Beason, Dan Morgan, Will Witherspoon
The Panthers have used more first-round draft picks (five) on linebackers than any other position, and those investments have paid off. Luke Kuechly and Thomas Davis need no introduction to Panthers fans of the present, forming arguably the best linebacking duo in the NFL throughout the Panthers' recent run of four playoff berths in five years. Kuechly is a potential Hall of Famer; Davis was NFL Man of the Year in 2014.
Kuechly took over the middle linebacker spot early in his rookie year in 2012 for Jon Beason, Carolina's first-round pick in 2007 who was busy rewriting the record books when Kuechly came along. Beason ranked among the top four tacklers in the NFL each of his first three seasons but couldn't stay healthy beginning with an Achilles injury in 2011.
Speaking of injuries, Beason became a starter as a rookie in part because of chronic injury concerns for Dan Morgan, the 11th overall pick in 2001 who like Beason starred at the University of Miami. When healthy Morgan was a beast, like in Super Bowl XXXVIII when he piled up a record 18 tackles.
Will Witherspoon wasn't a first-rounder (current linebacker Shaq Thompson became the fifth first-rounder in 2015), making the 2002 third-round selection even more of a draft-day bargain for Carolina. Witherspoon wasn't far behind Morgan with 13 tackles in the team's first Super Bowl and was a constant for four seasons during a period when staying healthy was a collective challenge for the defense.
DB: Mike Minter, Chris Gamble, Josh Norman
Minter, a second-round pick in 1997, quickly emerged as an impact safety and a true leader of the back end throughout his tenure. Gamble, a first-round pick in 2004, was a starter from Day One, and his 27 career interceptions are the most in team history.
Norman was one of Carolina's better late-round selections. The Coastal Carolina product was largely overlooked, taken in the fifth round of the 2012 draft. After taking a couple years to develop, Norman became one of the league's top corners.