CHARLOTTE – The last time Trai Turner had started a game at offensive tackle, his football life was just getting good.
Verbally committed to play college ball at LSU, Turner was blissfully going about his business as a senior at St. Augustine High School in his native New Orleans.
"That was my spot, but I actually thought I was going to play defensive tackle in college. At that age I was thinking, 'I don't want to block anymore. I want to tackle,' " Turner said. "But I ended up playing right guard at LSU, and that's been my fit ever since."
Until, that is, he found himself reliving his high school days – on football's biggest stage.
Late in the first half of the Panthers' game at Oakland in Week 12 - which started with only two offensive linemen manning the position they played last season - reserve-turned-starter Daryl Williams went down to an ankle injury at right tackle.
Enter Turner who – speaking of school – had done some homework at tackle but not as much as you would ideally hope.
"Funny thing is, they were coaching him up on the sideline to get him prepared," quarterback Cam Newton said. "If you've got a guy like that who is willing to step up for that big responsibility, then I can't let that guy down."
And Turner didn't let his teammates down. Just the opposite, in fact.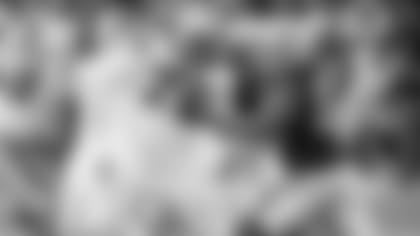 The Panthers trailed 17-7 when Turner shifted to right tackle and fell behind 24-7 soon after. But with halftime to settle down, the latest in a long line of offensive line combinations clicked in the third quarter to the tune of 25 consecutive points.
"Trai is doing really good in my spot, going from guard to tackle," said Williams, who is progressing but expects to be out again this week with a high ankle sprain. "He's got it under control. He's a Pro Bowler. He's got it."
The Panthers, which had just waived offensive tackle Donald Hawkins two days before the Raiders game, really had little choice when they turned to Turner. Still, it was the right choice, and Turner started at right tackle last week at Seattle. Despite a difficult night otherwise, the "piecemeal" line as head coach Ron Rivera called it didn't allow the Seahawks' relentless pass rush to sack Newton a single time.
"The last thing you want to do is move one of your starters, but when you see how athletic he is and his ability to do those types of things, you really see his value for us," Rivera said. "That's important that have that kind of flexibility but also have the willingness to do it. That sends a great message to everybody in that locker room, that guys are going to whatever they can to help us win a football game. That's impressive."
The willingness to try is one thing; the will to succeed at a position that Turner hadn't played since high school is another thing all together.
"It's two totally different worlds, right next to each other," Turner said of shifting from guard to tackle. "You go from dealing with a 330-pound guy who is trying to run through you the whole game to dealing with 260-pound guy who looks like he's coming downhill on you but then takes a sharp left or right to get up the field.
"It calls for different techniques and different sets. You have to be a little more patient out there."
It's the latest example of Turner's raw ability, especially impressive for a guy whose age suggests he should be just plain raw.
Turner, at the tender age of 20, decided to turn pro after playing just two seasons at LSU. The Panthers' third-round draft pick played right away and became a starter in his fifth game, a role he held from Day One last season when he was named a Pro Bowler.
After the season, multiple publications identified him as the best player at his position under the age of 25. He was just 22.
"You can always count on Trai," left guard Andrew Norwell said. "He leads with his play. He plays mean and nasty, and that's contagious in the room."
The demeanor, however, doesn't follow Turner outside the locker room. He and Norwell, who were rookies together in 2014, have been close friends ever since.
"Trai is a great dude," said Norwell, who has teamed with Turner to help break off many a big run but who also loves to break bread with him. "Trai's from New Orleans. He's kind of a homebody who likes to cook. He can cook up some shrimp and pasta dishes – you know the ones with the heads still on the shrimp. He can do some authentic Louisiana cooking.
"He's just this down-to-earth guy."
A down-to-earth guy with a down-to-work attitude that is as consistent as his level of play.
"Same guy, different role," Turner said. "I just want to do my job so the rest of the guys can look at me and see that I'm doing my job, that I'm holding it down like they're holding it down.
"We all want to do that so we can turn around and all give high-fives and go off the field smiling. That's what it's all about."
View photos of Panthers practice leading up to their game against the Chargers.