CHARLOTTE – Born in Memphis and having spent his first five NFL seasons in Kansas City, Dontari Poe has landed in another beacon for barbecue.
But when two of his new defensive coaches took him to lunch Friday, the day he signed on the dotted line with the Panthers, Poe went with the fish tacos.
"Burned out," Poe said about passing on pork. "I still have it every now and then, though."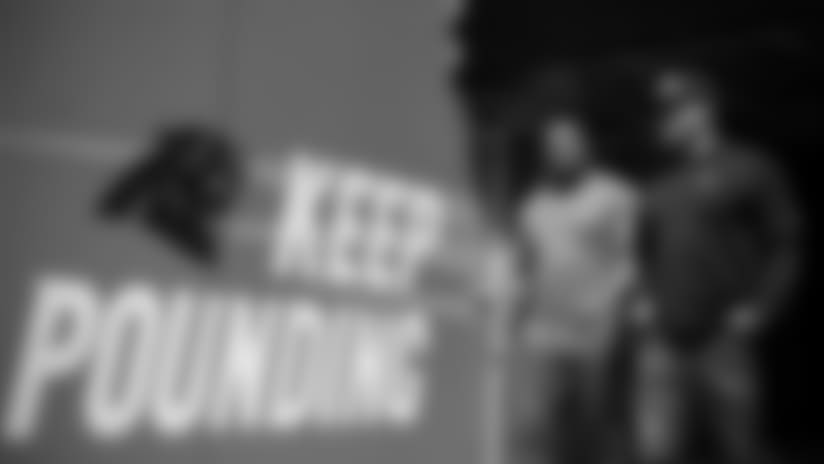 Before leaving town, three-year contract in hand, the two-time Pro Bowl defensive tackle chewed the fat with the local media on a conference call.
On signing a three-year contract with the Panthers on the heels of a one-year deal with the Falcons as a first-time free agent last year: "It seemed like there was a little doubt from a lot of people, so I just wanted to prove to them that I could still play and that I still have a lot of good years left in front of me. I feel like I did that, and here we are."
On his knowledge of Kawann Short and the rest of Carolina's defensive line: "I know he's a good player – he's not a secret. It's a fun defensive line, a fun defense all together. I'm excited to be a part of it."
On news that Julius Peppers will play this upcoming season: "I heard, and I'm excited about it. I'm excited to be his teammate. I watched him from the outside for a lot of years and admired his game, and now it's going to be good to be playing with him."
On being both a run-stuffer and penetrator: "First of all, it's good coaching, and then I just go out there and do what I do. I work hardest in practice, and then on game days I just go out there and let loose and just have fun. I just go out and play."
On his current weight: "It's in pretty good control – I'm like 335, 340. I'll probably stay around that. We'll just keep it there."
On why the Panthers made for a good destination: "Just because they've got good playmakers all around, and I just want to add to the defense. I think it's a good chance to come in and win right now. On film, it looks like they have a lot of fun. I want to come in here and have some fun, too. I want to be a part of it."
On whether Panthers talked to him about a potential role on offense: "No, I never had any talks with anybody. If they come up to me and say they need me, I'm down for it. We'll see how that goes. My game is playing defensive tackle, but if they want to throw that in there, we'll have some fun with it."
On his life off the field: "I mostly hang with my brothers, nieces and nephews, and I'm a mama's boy. I don't get into too many wild and crazy things. I mostly just chill, go to different places on vacation and just relax, pretty much."