SPARTANBURG, S.C. – When the Panthers take the field for practice, head coach Ron Rivera never has to worry about a lack of competitiveness.
Quarterback Cam Newton and linebacker Thomas Davis wouldn't allow it.
The respective leaders of the offense and defense have developed a rivalry that can be seen and heard at every practice.
"It's all about competing and having fun," Davis said. "We know that if we go out and talk trash against each other, it is going to make us better. Because if you talk trash, you have to back it up on both ends."
When Newton and Davis compete, the rest of the roster has no choice but to follow suit.
"I think that brings the best out of us," Newton said. "Just finding ways to keep the pulse in practice up.
"That's just something that we always do, because number one, you have to make practice game-like."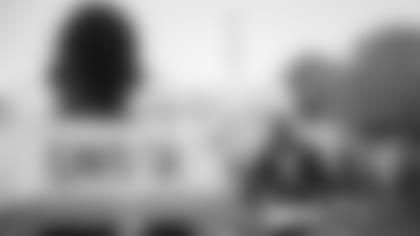 Game-like intensity is difficult to recreate on a field in Spartanburg, but Newton and Davis help create an atmosphere where wins and losses are counted during practice.
Linebacker Luke Kuechly isn't much of a trash talker, but he loves that competitive nature.
"The best thing about Cam is that he's super-competitive," Kuechly said. "That's what makes it fun because every rep is important and he wants to compete. It's better than a guy that's like, 'Whatever. It's not a game. It doesn't matter.' For Cam, it's, 'I'm going to compete every play. I want to win every play.' That's how we are on defense, too, and that's what makes practice fun."
It's obvious that these guys are having fun.
Sure, they talk trash after drills – like when linebacker Shaq Thompson picked off Newton and the quarterback told him, "Congratulations, you made a play 58 couldn't make."
They also talk trash in the cafeteria, at the card table, in the locker room – wherever.
"I always tease him," Newton said "(TD) said I'm too old to be blonding my beard. And I said he's too old to have a mohawk. That's just something that we always do."
Said Davis: "Cam probably talks more trash than anybody. But I'm not going to let him talk trash to me without handing it back."
Neither leader refuses to give in. And that's what this game is all about.
"They're challenging each other right now," Rivera said. "And it's a lot of fun to watch."
View photos from Carolina's fourth training camp practice.