CHARLOTTE – Brian Folkerts well remembers Ray Brown's unmistakable voice delivering the news he so hoped to hear.
Two years ago, on the final day of the Panthers' rookie minicamp that included Folkerts and 35 other tryout hopefuls, Carolina's assistant offensive line coach approached Folkerts.
"When we walked into our last meeting, Ray Brown pulled me aside," Folkerts said. "He said, 'Hey stud, you know what the plan is, right?' And I was like, 'I have no idea.'
"He told me, 'I think we're going to keep you around.' "
Folkerts ended up making the team later that year and appeared in 10 games. Last season, the reserve center and guard played in every game.
And it all started at the camp that's again taking place at Bank of America Stadium.
"We've been fortunate the last couple of years that we've been able to pull some guys that made our team," head coach Ron Rivera said. "Brian Folkerts is a great example, and (linebacker) Ben Jacobs is another one that caught our eye and made us say, 'You know, we've got to give this guy another opportunity.' That's exciting to me."
Jacobs, too, was added to the 90-man roster after earning a contract following his 2013 tryout. Last season, he led the Panthers with nine special teams tackles. Coaches could have simply read the bios and dug up some film of Folkerts and Jacobs prior to that minicamp, but getting them on the practice field offered a different perspective on what they truly had to offer.
"They caught our eye by doing the right thing, by telling other people what to do – especially for those two positions," Rivera said. "Folkerts at center and Ben at middle linebacker, watching them orchestrate and direct traffic is a pretty big deal."
A wholesale tryout opportunity like the one 35 hopefuls are getting this weekend is a relatively new concept but one that has benefited the Panthers. Prior to the adoption of a new Collective Bargaining Agreement in 2011, rookies debuted at a minicamp after the draft that also featured the team's veteran players. The new CBA replaced that with a rookie minicamp, and the NFL's decision in 2012 to expand offseason rosters from 80 players to 90 gave birth to the tryout component of the camp. Teams needed players to pair with their rookies on the practice field, and they also had more roster spots for potential finds.
That opened the door for Folkerts and others like him to find their way into the league.
"If you really want to chase your dreams, you have to be willing to do anything to get there," said Folkerts, an undrafted rookie in 2012 who didn't survive the New Orleans Saints' final roster cut and then spent two days on the Tampa Bay Buccaneers practice squad. After spending the rest of the season out of football, he signed with the San Jose SaberCats of the Arena Football League the next spring and played in six games before the Panthers invited him to try out.
"Getting cut in New Orleans was pretty tough on me, so when I got this chance, I knew I had to really give it everything," Folkerts continued. "I spent every night studying. I knew there was a real possibility that it could be my last shot at the NFL. Coming into it, I knew I had to give a perfect effort."
The path from tryout hopeful to the 53-man roster isn't always as straightforward as Folkerts' was, but success can eventually come from it regardless.
Wide receiver Brenton Bersin tried out in 2013 along with Folkerts and Jacobs. Bersin, who attended training camp with the Panthers in 2012, also was signed after the rookie minicamp and spent 2013 on Carolina's practice squad before catching 13 passes last season.
Last year, offensive tackle David Foucault was the only tryout player signed to the 90-man roster the Monday after the rookie minicamp, but he wasn't the only success story.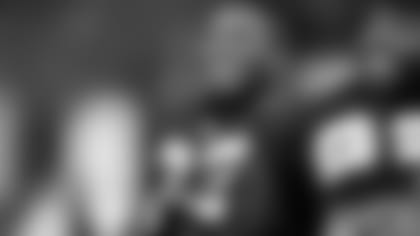 Defensive tackle Micanor Regis was an invited tryout at last year's rookie minicamp as well. Formerly a member of the Atlanta Falcons' practice squad who was out of football after being waived by the Falcons in the final roster cutdown in 2013, Regis didn't get a roster spot with the Panthers immediately after the rookie minicamp.
But on the first day of training camp, the Panthers signed Regis, who went on to spend three games on the 53-man roster and the rest of the 2014 season on the practice squad.
"They liked me, but they couldn't bring me in at first because the roster was full," Regis said. "I still stayed in shape, kept working out, and eventually they called me. I was already in shape and was familiar with the defense, so I was able to plug right in.
"I saw it as an opportunity, and you've got to make the best of it. Some guys get big opportunities. I got a small opportunity, but I made the best of it."
This weekend, the Panthers are creating those opportunities over again – and hoping it nets them an opportunity to add some more talent.
"You do find a diamond in the rough every now and then, and we've been fortunate," Rivera said. "Our scouts have done a nice job of bringing guys in that really have helped us and fit us.
"You have to create opportunities, and that's what we're doing right now. (General manager) Dave (Gettleman) and his staff have done a good job of putting us in a good situation to find talent."