DETROIT – This was a week unlike any other for quarterback Cam Newton, and he's had a lot of interesting weeks.
He made national news for comments made during his weekly Wednesday press conference that he would later call "degrading and disrespectful" to women.
He posted a heartfelt apology video on Thursday, and on Saturday, he boarded the team plane bound for Detroit with a hat featuring Rosie the Riveter. He wore it again as he met with the media for his postgame press conference following Carolina's 27-24 victory over the Lions.
"I was trying to find a way to kind of, hint a notion to all the women, hard-working women," Newton explained. "Did my homework on her and her impact on World War II, and not only her, but all the women and females who played a big impact in creating equipment for World War II and it was a symbolization for strong women. I just wanted to hint toward it, so it was lesson learned for me this whole week. My sarcasm, trying to give somebody a compliment, turned in ways I never would have even imagined."
Newton was then asked if it was hard to focus on the game during such a tumultuous week.
"With me and the preparation, it couldn't stop," Newton said. "So, I couldn't feel sorry for myself knowing that certain things took place that were out of my control, but at the end of the day, you live and you learn."
Newton made a mistake – one that he must own and learn from.
On Sunday against the Lions, his play on the football field was nearly flawless.
"He did a nice job. I mean, again, some unfortunate circumstances this week," head coach Ron Rivera said. "I thought he addressed them at the appropriate time. I know he understands he made a mistake and it's time to go forward."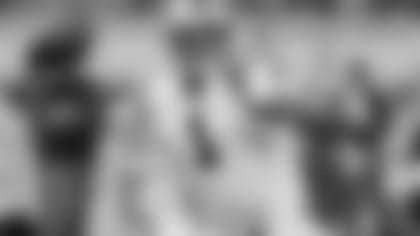 Newton completed 26-of-33 passes for 355 yards and three touchdowns against Detroit. The Panthers struggled to run the ball, accumulating just 28 yards on the ground, so they relied on Newton – much like they did last week at New England – and he delivered. Again.
"I'm feeling like the strength of my arm is getting stronger and stronger," Newton said.
His first touchdown was a nifty shovel pass to rookie running back Christian McCaffrey; his second was an improvisational toss to wide receiver Devin Funchess in the back of the end zone; his third was a pinpoint deep ball down the sideline to wide receiver Kelvin Benjamin for a 31-yard touchdown.
Those three touchdown strikes turned a 10-3 deficit into a 24-10 lead.
"I've been saying this since we broke camp, it's just a matter of him getting back to the opportunity to improve his arm strength," head coach Ron Rivera said. "He really hadn't had a training camp. Those first few games were really kind of his training camp and he was getting himself back into it. Now he's had a couple of really good weeks.
"We're getting timing down between him and his receivers… it was all about getting the timing down and now we're starting to see the results of it."
Rivera thought Newton's deep strike to Benjamin was his best throw, but given the circumstances, the completion on 3rd-and-9 with 2:30 left in the game and Carolina clinging to a three-point lead was his most important.
An incompletion would have put Carolina in a precarious situation to say the least. But Matthew Stafford and the sizzling Lions offense never got another chance to possess the ball.
Newton's throw on a skinny post to Benjamin had plenty of zip and was right on the money for 17 yards. From there, Carolina lined up in victory formation.
"That's the reason why you call big-time players big-time players – for those type of moments," Newton said.
The Panthers are getting big-time production from their franchise quarterback.
Just two weeks ago, the Panthers weren't able to lean on Newton's arm. He's proven that they can now. And that's transformed a sputtering offense into a dynamic one.