Pictured left to right: UNC Charlotte football coach Brad Lambert, Rosalind Richardson, Jerry Richardson,Director of Athletics Judy Rose and Chancellor Dr. Philip Dubois.
CHARLOTTE – The home of UNC Charlotte's fledgling football program will bear Jerry Richardson's name in perpetuity, university officials announced Tuesday.
Jerry Richardson Stadium, about 11 miles northeast of Bank of America Stadium, will host the school's inaugural football game when Campbell visits August 31. The Panthers' owner and founder committed $10 million to the stadium Tuesday and also endowed a football scholarship in honor of his son, Jon Richardson.
"The role UNC Charlotte plays in our community cannot be underestimated, and its profile will only continue to grow," Richardson said during a press conference Tuesday. "The addition of football is another step in that growth, and it is important that our community supports the school and its programs.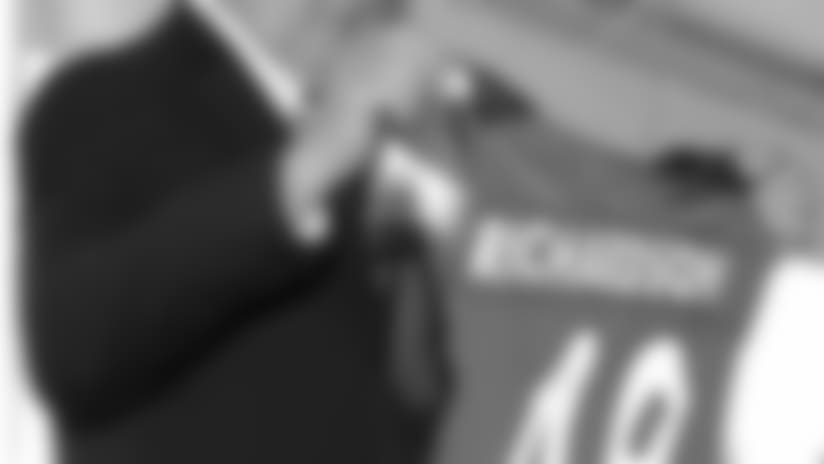 "The potential of both the university and its athletic department is unlimited, and I am pleased to be able to participate in their development. My personal experiences from football have been very beneficial, and this is a way to support both the future of the game and the university."
Richardson had previously partnered with banking industry pioneer Hugh McColl to name the stadium field, McColl-Richardson Field.
"This donation comes from the generous heart of a man who values where he came from and wants to help others get to where they're going," UNC Charlotte Director of Athletics Judy Rose said. "Jerry Richardson, by no means, needed to make this donation. His legacy in this community and around the country is firmly established. Jerry Richardson wanted to make this donation.
"As a former college athlete, he wanted to make this donation because of all that college athletics has done for him. As an owner of our region's NFL franchise, he wanted to make this donation to support the region's largest university."
The school completed construction on the 15,300-seat stadium last October. Under the direction of head coach Brad Lambert, the 49ers began practicing in the facility upon its completion.
"In the football world, few men stand as tall as Mr. Richardson and to have him, once again, pronounce his support for our school and our program is amazing," Lambert said. "We cannot thank you enough. This is an extremely generous gift. We are honored."
UNC Charlotte will begin play this fall as a Football Championship Subdivision independent. In 2015, the 49ers will join Conference USA in the Football Bowl Subdivision, with full status, including bowl eligibility, slated for 2016.
"Today, we take another huge step," UNC Charlotte Chancellor Dr. Philip Dubois said. "Jerry knows that football can bring the students and the city of Charlotte together, and he wanted to be among the first to stand up and state, 'This program is important to me.'"