CHARLOTTE – If the NFL Draft is like Christmas, Santa spoiled Mike Shula this year. It's like the Panthers offensive coordinator got not one but two Red Ryder BB guns.
"Tell me something I don't know," he quipped Wednesday. "That hasn't changed since the first year I started coaching."
Even if Shula believes the pressure hasn't changed, it sure looks like his offense will. That's why headlines such as "The Panthers Are the Future of Football" have been popping up the past few days. Not surprisingly, Shula's response to the excitement is a "slow your roll" - in his typically deadpan demeanor.
"We're just going to try to win our first game and then go from there," he said.
With Week 1 more than four months away, the Panthers plan to bring their new toys along slowly. But they'll need to be unboxed by the time Carolina lands in San Francisco.
"When you get to know them and you get a good feel for their character and football knowledge, you get a good feeling of how they'll be able to transition," Shula said. "Now, you don't know until they do it, but it gets you excited."
Running back/receiver hybrids like McCaffrey and Samuel would tempt most teams to try new wrinkles. But for the Panthers, a team that's historically tried to run over and not past or around people, the additions seem to signal a significant change in strategy.
"There is going to be a good mix because we're a big football team, we're a big offense," Shula said. "Now all of a sudden, we've got some guys that we can move around."
"He's not just a small guy that can only do a few things," Shula said of McCaffrey. "He can do a lot of things and he plays big for a small guy."
Among the things the Panthers could ask McCaffrey to do: line up in the backfield, slot or out wide; take handoffs between the tackles or around the edge; run short curls or deep posts; return punts or kicks.
The same list applies to Samuel, who the Panthers hope will stretch defenses with his 4.31 speed.
"He's a really good route runner and he's only going to get better," Shula said when asked about Samuel's now two-year transition from running back to guy who can line up anywhere across the formation. "I think his ceiling is – we don't know where his ceiling is."
As you've likely seen by now, McCaffrey and Samuel piled up all sorts of stats in college, combining for 704 carries, 178 receptions and 49 touchdowns the past two seasons. But transitioning that versatility and those video game-like numbers to the NFL isn't a given.
"There's going to be a learning curve," Shula reminded. "All the best players that they played against in college, they're going to see those guys every week. The speed and the instincts that they're going to go against - there will be guys that are just as fast or just as quick as they are."
With much of the college game now played out of spread formations, NFL teams have struggled when they've attempted to plug new players into old systems. So instead of trying to fit square pegs into round holes, the Panthers plan to structure at least part of their offense around the new guys.
"I think you have to find good, smart, instinctive guys with good character to do that," Shula said. "I don't think you can do that with just anybody just because he's out of the norm and has some really good traits. I think the instincts have to be an important part of that."
Of course, instincts can only take you so far at first.
To understand how the Panthers hope to bring McCaffrey and Samuel along, it's worth thinking back to 2011.
"It's a little bit like when we drafted Cam," Shula said.
Newton's 4,051 passing yards as a rookie are still a career high, but so are his 17 interceptions from that season.
"One thing you've got to be careful of is trying to do way too much," Shula continued. "You've got a very talented player that can do a lot of things, but you've got to grow as you go and see how much he can handle and then continue to expand on it."
Six years later, part of Newton's game remains a work in progress. He was on pace to finish last season with a career-low completion percentage even before he played the final three games with a partially torn rotator cuff. Now, as Shula told MMQB's Peter King, McCaffrey and Samuel will give Newton higher-percentage options.
"The hot topic now is our completion percentage was down," Shula said. "But these guys are going to get the ball and not just increase completion percentage. Get them in space and they're dangerous."
As much as the NFL is a copycat league, it's also a never-ending game of chess. When offenses make a move like putting big, pass-catching tight ends in the slot, defenses counter with athletic linebackers like Shaq Thompson. Now the Panthers are attempting to counter back with two of the most dynamic players in the draft.
"We've had good personnel here in the past. Now we feel like we're going to add to it and hopefully these guys give people some new wrinkles they'll have to think about," said Shula, who has plenty to think about the next few months.
Like, how much of the playbook needs to be torn up?
"To be very fair, I think that's a question we really can't answer right now," he said. "Those are all things that we're talking about now as a staff."
The answers the Panthers come up with won't necessarily decide the 2017 season, but the immediate future of the offense depends on how much pressure Shula can transfer to defensive coordinators.
"We like to think as coaches that you're going to be the ones that can draw up the most creative plays and it doesn't matter who's out there on the field," he said. "But football players make plays, and it's our job to get those guys the ball."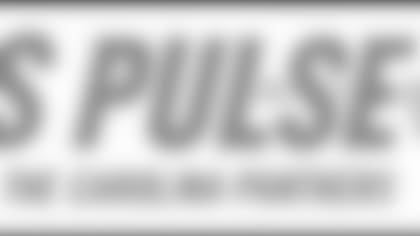 ](https://nfl.csharmony.epsilon.com/pc/clubs/Panthers/Account/register)