CHARLOTTE – The Panthers didn't officially address their secondary in the NFL Draft, but they managed to do the same without investing a draft pick.
After signing several defensive backs in the veteran free agent market prior to the draft, the Panthers signed safety Robert Lester and cornerback Melvin White – a pair of rookie free agents - after the draft. The DB duo debuted Friday at the team's rookie minicamp.
"Those two guys really showed well today," Panthers head coach Ron Rivera said. "I really like what Robert Lester did, and I really liked Melvin White. He's another guy that we felt had a chance to get drafted."
Many draft analysts expected Lester, a three-time national champion at Alabama, to hear his name called during the draft, but it didn't happen. The Panthers pounced, and Lester made a good first impression Friday.
"I was disappointed that I wasn't drafted, but that just puts a chip on my shoulder to play even harder and prove that I can play," Lester said. "This is a top-10 defense. I paid attention to them this year. I realized that they do need help in the secondary, and I'm more than willing to come in and help and try to contribute."
The Panthers finished 10th in the NFL in total defense last year but were tied for 23rd with just 13 interceptions. Lester accounted for eight interceptions as a sophomore, then just two as a junior. But that tied for second on the 2011 team, as did his four interceptions last season as Alabama led the nation in total defense and scoring defense for the second consecutive season.
"If you were to watch film from 2011, I don't think one team threw the ball deep on us. Everything was short," Lester said. "That's what you want. You want to take a part of the field away from them. If they feel they can't throw deep, that's a good game plan.
"I know the Panthers want more interceptions. At Alabama, we really put an emphasis on creating turnovers and being a quarterback's nightmare. We can have that same identity here."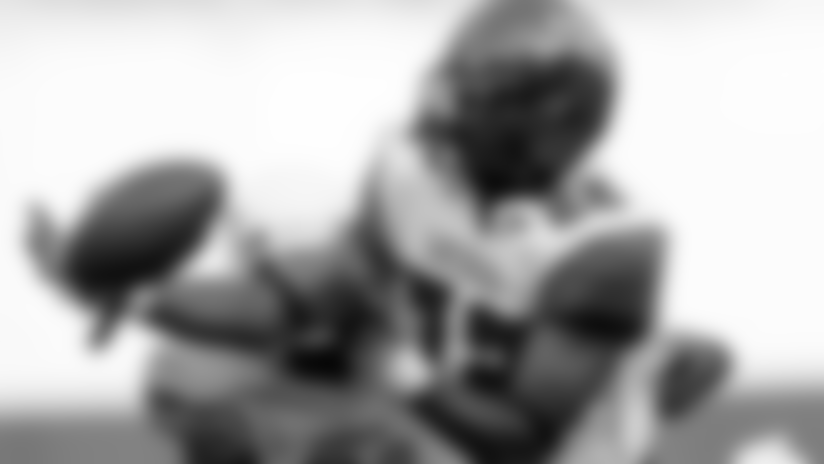 White wasn't as ballyhooed at Louisiana-Lafayette but still had a good chance of being drafted because of his play-making ability and versatility. He tied for second on the team with seven passes defensed when he started all 13 games at safety as a junior, then he led the Ragin' Cajuns with 10 passes defensed as a senior while playing cornerback.
"The Panthers were the only team that had a private workout with me, and I talked to them throughout the draft," White said. "I had teams call me during the draft and tell me they might go with me. But it doesn't matter when and where, just as long as I got a chance somewhere.
"The Panthers have a nice secondary with a lot of young guys coming up. I would just be lucky to get a chance to contribute to it."
The Panthers moved to shore up their secondary in free agency, signing unrestricted free agents Drayton Florence and D.J. Moore at corner and safety Mike Mitchell at safety in addition to re-signing corner Captain Munnerlyn.
Lester and White, however, hope to show they have what it takes to compete for a roster spot at a deep but wide-open position.
"I had to work to get my spot at Alabama. You've got to work out here to get your spot, too," Lester said. "It's the same type of atmosphere out here, with great talent around you. You've got to prove your point every time you step on the field."