Panthers wide receiver Steve Smith was on the phone with his wife one night when he was startled by the reality of military life in Afghanistan.
A rocket attack occurred at the base where Smith was staying on his USO tour in March. Sirens went off and Smith followed strict instructions, sprinting to a nearby bunker.
"All of a sudden it was like, 'Whoa,'" Smith said. "My wife could hear the siren in the background."
Smith embarked on this tour to better understand what American troops experience overseas. Reacting to a rocket attack sure left a lasting impression.
"I got to go through that and see what our fellow men and women go through every single day," Smith said. "They had already talked to us about the procedure if there was a rocket attack, and then I actually went through it.
"It was really an eye-opening experience."
Over the course of a week, Smith and fellow NFL players J.J. Watt (Houston Texans defensive end), Champ Bailey (Denver Broncos cornerback), Von Miller (Denver Broncos linebacker), D'Qwell Jackson (Cleveland Browns linebacker) and Davin Joseph (Tampa Bay Buccaneers guard) toured a handful of bases and met with soldiers.
They wore Teflon vests and helmets for "85 percent of the trip" and got familiar with the packs of equipment troops carry daily.
They rode Apache and Blackhawk helicopters and got up close and personal with combat weaponry.
"On the Blackhawk, you have two guys on each side of the helicopter with machine guns, ready to defend not just my life but their own lives," Smith said. "I wasn't prepared for that."
There's a lot Smith couldn't have possibly prepared for.
He conversed with soldiers who had recently lost friends and spent time with wounded warriors in recovery.
The word "toughness" gained an entirely new meaning in this world.
"While we were there, a Blackhawk went down and killed two people. Two more were severely injured. One of the guys severely injured broke his pelvis, broke his jaw, broke his arm. What we consider toughness on the football field is one thing," Smith said. "I had the experience of meeting a unit that lost one guy and had another guy lose both legs and suffer internal rupturing."
Smith witnessed pain. He witnessed the dangers of war.
He also brought fun, smiles and laughter to the brave men and women who put their lives on the line in defense of their country.
"We played football with some guys during some recreational times between shifts," Smith said. "We played cards, played dominoes. We ate breakfast, lunch and dinner with them."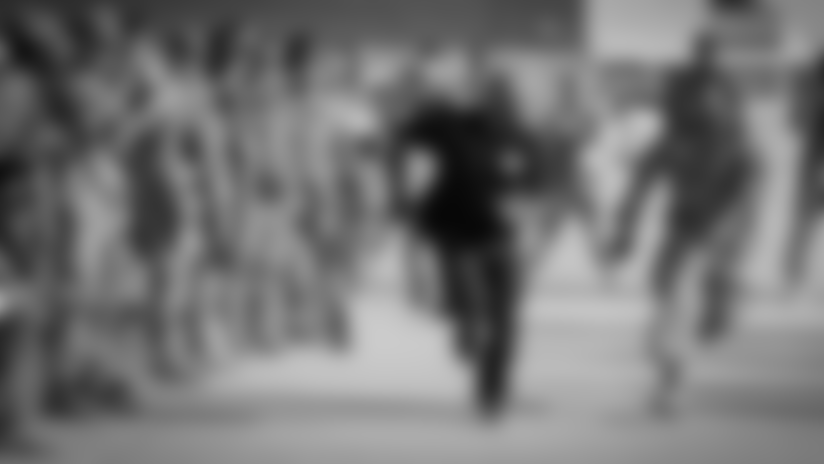 Smith even agreed to race a soldier.
"He said, 'Hey, I'm a Smith. You're a Smith. Let's race,'" Smith recalled. "We were just all out there having fun."
Smith and the other NFL players brought a tiny bit of home to the soldiers they visited in Afghanistan.
And while overseas, Smith thought about his home, his family and the gratitude he owes the men and women protecting them.
He was particularly struck by a quote commonly attributed to George Orwell that he saw posted by the 376th ESFS Squadron.
"People sleep peacefully in their beds at night only because rough men stand ready to do violence on their behalf," Smith said, reciting the quote.
"For those men and women, that's the standard they're living by," Smith said. "There are people fighting and dying for me, for my children, for other people. I'm not sure that many people walking around on the civilian side – including myself –are willing to put their life on the line for a complete stranger."
Those brave men and women don't seem like strangers to Smith anymore. His week in Afghanistan allowed him to connect with them. He learned their names, discovered where they're from, and became familiar with their daily routine.
It was an unforgettable trip that allowed Smith to gain valued, hands-on perspective.
"I went in there very open, and it was just a flat-out new experience. I was blown away," Smith said. "I want to go back. I would love and be honored to go back next year."