PHOENIX – Ron Rivera spent a lot of time at the recently concluded NFL Annual Meeting discussing how the Panthers plan to improve their offense in 2017, but Rivera knows the defense needs a similar shot in the arm.
Only six teams gave up more than the 25.1 points per game the Panthers yielded in 2016. The return of all-everything linebacker Luke Kuechly should provide a big boost, but the Panthers also are looking to a formula that worked well for the unit during its Super Bowl season in 2015.
"You go back to the Super Bowl year and look at what we had with Roman (Harper), Charles (Tillman) and Jared Allen - those three veteran guys," Rivera said. "Now we have (Mike) Adams, (Captain) Munnerlyn and Julius (Peppers). Are we trying to copy what we did? You're darn right. We really are.
"I'd love to be able to get back to that type of situation."
The defense didn't lack for leaders last season, but Peppers along the defensive front and Adams at safety have truly seen it all, with a combined 28 seasons under their belts. Munnerlyn has played "just" eight seasons, but he'll provide swagger and a veteran presence to be sure for a cornerback group that started two rookies most of last season.
The three, however, haven't been brought in just because they've been there, done that.
"We signed some older guys this year. I wanted to have my own AARP meeting," general manager Dave Gettleman joked. "I'm just old-fashioned. I believe in the tape. I believe in what I see. I know what I see with Jonathan (Stewart). I know what I saw with Mike Adams and Julius (Peppers). They are older guys for their position, but they can flat still play.
"There are some teams that have a philosophy that when a guy hits 30, he's out. I think that's incredibly dangerous. I saw a team that really hurt themselves by having that philosophy and really sticking to it."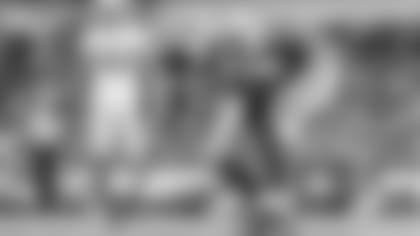 On the surface, the way the Panthers end up utilizing Peppers in his 17th NFL season might look like they're responding to his advanced age, but that's not the case. The 37-year-old just recorded his ninth consecutive season with at least seven sacks.
"We are a heavy rotation team with the front, and he'll be part of that rotation," Gettleman said. "He'll be in there like everybody else. It's not a situation where he is going to hold (defensive line coach) Eric Washington's hand and then on third-and-88 it's, 'Go Julius.' No. He's going to be part of the rotation."
Rivera likened the way the Panthers plan to use Peppers to the way they've recently used defensive end Charles Johnson, poised for his 11th NFL season.
"Charles is a guy we've used in a rotation the last couple of years, and it's been beneficial for him. I think it will be beneficial for Julius," Rivera said. "It's going to be no different than what we've done with Charles and with our defensive line to begin with.
"I think there's a lot left in the tank. He takes care of his body. From everything I've heard, he keeps himself in great shape. He's not just coming for a swan song. I would love to see Julius be able to stick around for a while. I'm excited about what potentially could be. It's a good opportunity for us and a good opportunity for him."
In the secondary, Munnerlyn also could technically be viewed as a situational player given that he was primarily brought back to play the nickel cornerback position he excelled in over his final two seasons with the Panthers (2012, 2013). But since he was last here, the league has become so pass-heavy that the Panthers' nickels are now on the field more than they're on the sidelines, plus Rivera said Munnerlyn could compete for a role on the outside as well.
"I think that's a good thing for us because it will help push James (Bradberry) and Daryl (Worley) both," Rivera said. "One of the biggest things we'll get from Captain will be some leadership ability, that veteran wisdom. I'm excited about the potential of that group.
"He's going to bring some continuity to that position. You go back and look at his first two years for us at the nickel position, his productivity for us was tremendous. We have not been able to duplicate that production, so you're constantly looking for that guy, and all of a sudden here's a chance to bring the guy back that you've been measuring everybody to. I thought that was something we had to do. I'm very excited to have him back."