CHARLOTTE – Steve Smith is the only Panther that's been in the NFL longer than 11th-year cornerback Drayton Florence.
There is a lot of pride that comes with playing in the NFL for more than a decade.
But Florence had to put that pride aside when the Panthers called him on September 18.
Florence had spent training camp with the Panthers and was a starter throughout the preseason, but Carolina opted for younger options and he was released in the final roster cutdown.
Then, after the Panthers got off to an 0-2 start and suffered a slew of injuries in the defensive backfield, the team decided to re-sign Florence.
"I'm glad they thought enough of me to bring me back. I'm here to seize the opportunity and help this team get a win," Florence said when he returned.
He was disappointed to have been released, but Florence quickly moved past it.
"First and foremost," Florence said, "it's a business."
That's not always easy to understand and accept.
"It's tough. He swallowed his pride and came back to help us win football games," cornerback Captain Munnerlyn said. "That shows you a true pro. He knows sometimes you can be let go because of numbers or because the team wants to go younger. But he came back and embraced his opportunity."
Head coach Ron Rivera said it was as if Florence had never left. And that left an impression on the coaching staff.
"The thing I really appreciate about Drayton is the chemistry he's brought to the room, in particular the secondary and to the defense," defensive coordinator Sean McDermott said. "My hat goes off to him. To come back like he did and pick up where he left off, I really appreciate that about him."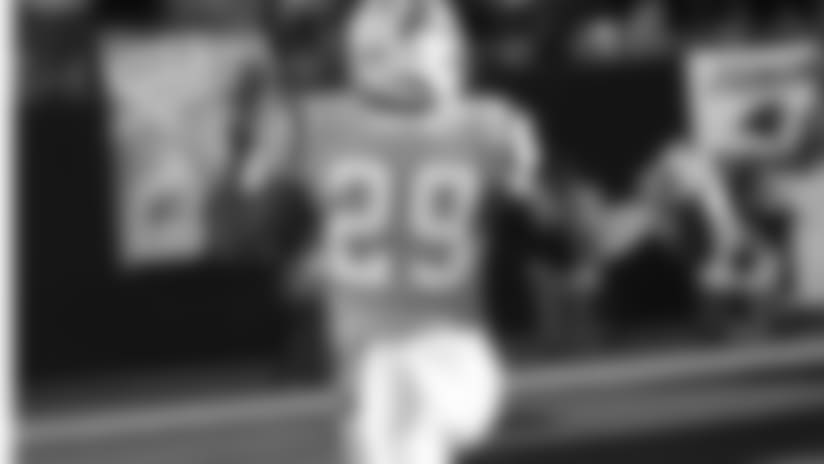 Since his return, Florence has been the mentor the Panthers hoped he would be.
"I just try to be there for (the younger guys), show them how to read different route concepts. That's what they have me here for. And when I get out on the field I just try to make a play or two."
Said Munnerlyn: "He knows what he's talking about, and guys are going to listen to him. He might not be out there every down, but when you come to the sideline he'll give you tips and keys."
And Florence isn't just mentoring – he's performing.
He's been a key contributor on Carolina's third-ranked defense, playing in 75 percent of the defensive plays over the last two weeks, essentially serving as the No. 3 cornerback behind Munnerlyn and Melvin White.
Last week against the Atlanta Falcons, Florence caused Bank of America Stadium to erupt when he picked off Matt Ryan and returned his first interception of the season 38 yards for a touchdown.
"As a coach, it makes you smile and it makes you happy to see a guy like that have success for us and make a play like he did," McDermott said.
Florence's pick-six sealed the Panthers' fourth consecutive victory.
"Any time you can make a play that helps the team win it feels good," he said. "I was just doing my job."
That's the kind of response you'd expect from a veteran.
But this veteran can admit he's having a lot of fun in his 11th season – a season that he's happy to say is about a lot more than personal pride.
"I enjoy coming to work. There's been some years where I didn't," Florence said.
"We are very relevant. We are playing for something. You always play for pride every week, but at the end of the season you want to go to the playoffs. It feels good to come to work and compete."