CHARLOTTE – Shaq Thompson's often quick to point out how the NFL is, at the end of the day, a business. In eight years with the Panthers, he's played for three head coaches, flipped defensive schemes on multiple occasions, and watched plenty of teammates come and go.
Thompson could've taken the chance to move away from Carolina before he agreed to a reworked contract in March. The 29-year-old veteran linebacker would have to adjust back to a 3-4 base defense (he played in it in Ron Rivera's last year here in 2019) and get to know an all-new coaching staff anyway, but the West Coast native has spent his entire NFL career in Charlotte.
So as he considered his options, the answer grew clearer.
"Just look at the linebacker market; nobody was getting paid," Thompson said. "So it was just weighing out, 'Do I want to be here, or do I want to go somewhere else? Do I want to be with my brothers, who I went to war with, or do I want to go to a different team and meet new people?' And shoot, I'm a big loyal guy. So I stayed with my brothers.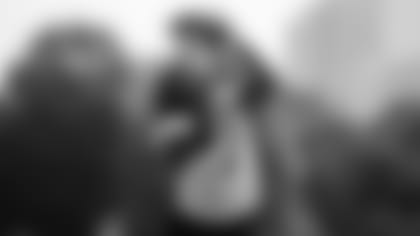 "I was like, 'Man, I'd rather win with you guys. Or if I lose, I'd rather lose with y'all. I definitely want to win a Super Bowl, but I want to win one with them. I don't want to win one with nobody else."
Thompson's attachment to the Panthers' roster plays into his natural ability as an on-field and locker room leader. He makes his presence felt at OTAs, and in his eighth season last year, he continued to make valuable impacts in game action.
Thompson set a career-high in total tackles last season (135), adding himself to the list of just eight players across the league to accumulate over 100 tackles in each of the last four seasons. He is fourth on the Panthers' all-time tackle list (according to press box stats), behind only Luke Kuechly, Thomas Davis, and Mike Minter. Drafted in the first round by Carolina in 2015, Thompson trails only long snapper JJ Jansen as the longest-tenured Panther on the current roster.
New linebackers coach Peter Hansen picked up on Thompson's vibe early.
"Every guy on the defense looks to him first, as far as what the next call is, 'Where should we stand?'" Hansen said. "So his leadership, first and foremost, has really stood out to me. Just the way he sets the front with his communication. I mean, he's louder than anybody else. And he's more confident in what he's saying than anybody else. I think that's the first part that we're so excited about.
"Then, now that OTAs have started … you know, we're still in shorts and T-shirts, but the full-speed stuff within that has been impressive. I think we're all really, really excited to have him."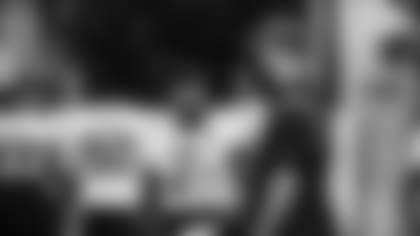 It was obviously important to the Panthers to try to work out a deal that would keep Thompson around, especially with new coaches coming in. And they realized it, too, as Thompson said head coach Frank Reich, Hansen, and new defensive coordinator Ejiro Evero all frequently contacted him before the contract was worked out.
"Frank was with me, honestly, through that whole process, just talking to me, telling me like, 'Man, we really want you back,'" Thompson said. "He was really calling me, texting me almost every day – him, Pete, and coach Evero, reaching out to me, telling me how much they would love to have me back and stuff like that. And I fit the defense. That was real big also; that was another big part of the reason why I came back."
Reich recalled how Thompson made it apparent that he wanted to stick around when they first sat down together. They had a 90-minute conversation, Reich said, and he left impressed with Thompson's natural leadership qualities.
"You could sense his maturity, his leadership – you know, team guy," Reich said. "He made it clear in our conversation the very first time that he wanted to find a way to stay here."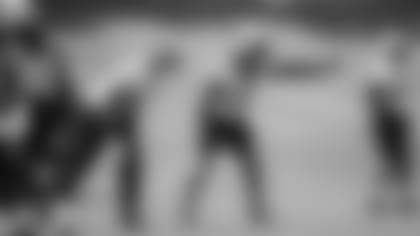 And general manager Scott Fitterer had the same comments to share about his conversations with Thompson before the reworked deal, pointing out his connection to the team, the area, and a selfless decision to stick around and make the arrangement work.
"He's a team leader, one of the most unselfish people I've been around," Fitterer said. "And he wanted to be here. It's important for him to be in Carolina. He loves Charlotte. He loves the Panthers. And when it came down to – we had a conversation. We sat down in the stadium, and we just talked, man-to-man, said, 'Hey, listen, what do you need? This is what we need.' We worked through it.
"I know he slept on it. He called me back, said, 'Hey, listen, this is what I'd like to do.' And I can't thank him enough. I mean, it's such a team-first move that he did, and a ton of respect for Shaq. He wanted to be here, and we made it work."
For Thompson himself, a lot of that naturally went back to his work with these teammates in the past and the hope to build more on the foundation he has cemented with the people here.
"It meant everything," Thompson said. "(I) still had a job, didn't have to go nowhere. But I definitely didn't want to do it without these guys. I mean, we've been through so much – some guys, three years, some guys, four years. Then just having a new coaching staff, it's like, I don't want to do it with nobody else."
Shaq Thompson has 698 tackles in eight seasons with the Panthers, placing him fourth all-time in tackles in franchise history.