When Louisiana Tech defensive line coach Rick Petri arrived on campus prior to the 2015 season, it didn't take long to realize he had something special in defensive tackle Vernon Butler.
Following the conclusion of spring ball, he told people in the program Butler had the ability to be a first-round draft pick.
"He has such a high ceiling. There's so much in front of him," Petri said in a phone interview. "He's got great size, and when you see a guy that big, you don't expect him to move as easily and as well as he does."
Petri said Butler was "extremely well prepared" for his senior season. Butler earned first-team All-Conference USA recognition and anchored a defensive unit that led the conference in rush defense for the second consecutive year.
NFL teams took notice. The Panthers were eager to find out more, and defensive line coach Eric Washington was tasked with determining if Butler was a fit.
First, Carolina conducted an interview with Butler at the NFL Scouting Combine in Indianapolis.
Then Washington and director of college scouting Don Gregory flew out to Louisiana Tech for a private workout with Butler on March 4. Washington said Butler aced the classroom work, absorbing all the information thrown at him and regurgitating it quickly.
When they went out for some work on the practice field, Washington saw firsthand the athleticism Petri was talking about.
"We have a drill that we use every day with our defensive line, and it's called the line drill. It's about coming off the football and attacking the line of scrimmage," Washington said. "We're trying to gauge player's ability to change directions against his own momentum. It's a critical trait for a pass rusher.
"It was really obvious that he had a high level of athletic ability. It's unusual for a man his size."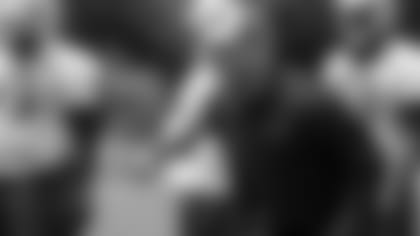 A week before the draft, the Panthers brought Butler into Bank of America Stadium for a visit. They already thought highly of him before he stepped foot in the building, and they liked him even more after his visit concluded.
"The level of maturity and his ability to retain information stood out," Washington said.
It became clear that Butler had everything the Panthers were looking for, and they were thrilled to select him with the 30th overall pick in the 2016 NFL Draft.
When Butler returned to Bank of America Stadium for his introductory press conference, media and fans were able to learn more about the hulking defensive tackle's personality.
Butler, a respectful 21-year-old from a small town in Mississippi, is humble and soft-spoken. He doesn't seek attention. The row of cameras he saw in the media room were a little overwhelming.
Petri said Butler is a classic example of a player who "flips the switch." Off the field, he's quiet and reserved. On the field, he's an aggressive playmaker in the middle of all the action.
"Don't take his quietness for not being an aggressive player. He has a toughness, and he has that nasty streak. You better have it," Petri said. "I've coached D-line for a long time. If you find one that can be as aggressive as heck in between the lines and be that kind of respectful guy off the field, you've got something ideal."
Washington thinks Butler's personality will mesh perfectly with the likes of Kawann Short, Star Lotulelei and Charles Johnson.
"I don't mistake kindness for weakness," Washington said with a smile. "For all of the things about his personality that are reserved and quiet and respectful, we know that he loves to compete. And we know that he has the kind of demeanor that we are looking for with the identity of our defense.
"We consider that – how well does he fit into the group? That's something we felt was an A-plus. We think he's going to be a great fit."
Butler's presence makes an already loaded group even stronger. He won't be penciled into the starting lineup like many other first-round picks. Instead, he'll be a well-rested rotational player expected to wreak havoc when he enters the game.
"Vernon will see the value in that once he becomes a part of it," Washington said. "It's what has made us successful, and I think he'll embrace that once he gets started.
"Everybody has to go through the process, and there's a learning curve. It's professional football. But we expect him to adapt quickly. All the things that he brings to the table will allow him to find a nice niche for us."
View photos of the Panthers' first-round draft pick, Louisiana Tech DT Vernon Butler.