Add that the 28-year-old safety spent seven seasons in the league and played a key role on successful teams, and it becomes clear why the Panthers wanted to add him to their young defense.
It was evident when Bell was asked what his experience level would bring to a younger Carolina locker room, particularly on defense.
"Just being myself every day," he said. "Just show who I am as a person – man first, then a player. Really just being myself the right way. Strive for greatness every day."
Bell has logged 109 appearances and 93 starts with the Saints and Bengals, hauling in a career-best four interceptions last season in Cincinnati. He caught a pick against Chiefs quarterback Patrick Mahomes in the 2022 AFC Championship game to send his Bengals to Super Bowl LVI.
Bell said he paid attention to Carolina's defense during his last season at Cincinnati – he "always studies" other defenses – and liked what he saw, especially his new teammates' "aggressive" style.
"Really, really ready to strap it up with them," Bell said. "And Chinn? Oh yeah. Chinn goes crazy."
Bringing Bell on to pair with Woods as two safeties on the back end of new defensive coordinator Ejiro Evero's scheme could unlock more opportunities for Chinn to play closer to the line of scrimmage, similar to how he was used as a rookie in 2020.
"They're going to move (Chinn) around a little bit in this defense," general manager Scott Fitterer said when asked how having Bell on the roster will change Chinn's role. "He'll be like the big nickel, maybe dime linebacker. … It just gives us flexibility on the back end. This is a league now where you're in nickel 75 to 80 percent of the time. Guys like Jeremy are going to be on the field. He's a very valuable player for us."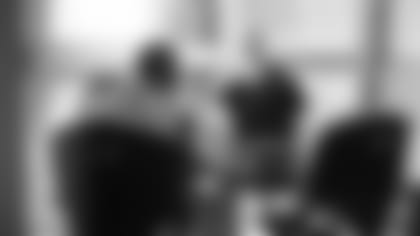 Bell also said he connected "instantly" with head coach Frank Reich, which added to the list of reasons he wanted to come here.
"Player-to-player. He played 14 years, and he gets it," Bell said. "All he worries about is work and being great, and putting that winning mindset, and that's what I'm about."
Bell has been there in successful moments, and he's risen to the occasion, and that's part of why Fitterer included him in a list of free-agent signings that bolster the Panthers' maturity.
"To get people like Hayden Hurst, Vonn Bell, Miles Sanders, I mean, those are all winning teams, and they can bring something to you," Fitterer said. "It was an opportunity to go get great players. A lot of times, guys become available because they're selfish or they're divas; that's not this group at all.
"And it's very important. Who do we bring into our locker room? What type of character do they have? These are the guys that fit that."
For Bell, locker room culture is paramount, so getting in there and showing younger Panthers the ways of a veteran will be one of the first places he starts.
"Getting around the guys in the locker room, that's the biggest thing," Bell said. "Because that's where games are won and lost. It's all about the guys and really just connecting with them, just putting in the work and putting the boots down day one."
See the best photos of Vonn Bell on set after he signed with the Panthers on Monday.