KALIL INCHING CLOSER: A neck injury has kept Panthers center Ryan Kalil sidelined for five games, but he could return as early as next week against the Bears.
"I feel good about it," head coach Ron Rivera said. "He'll practice Tuesday and we'll see how he is after the practice."
While backup center Tyler Larsen has been a solid fill-in, Kalil is a five-time Pro Bowler for a reason.
"Tyler has done a good job and has gotten better. He's going to continue to get better," offensive coordinator Mike Shula said. "But (getting Kalil back) is like how important it is to get Greg back. The leadership, the knowledge, the talent.
"We're still working to get all those guys back on the field together. We have Curtis (Samuel) practicing now. We have Cam (Newton) practicing now. I know we're going to have injuries, but hopefully we can get them all back."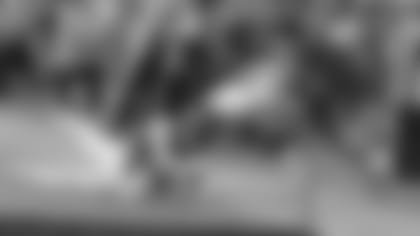 TOO MUCH NEWTON?: Carolina's coaches would rather Newton not lead the team in rushing, but against the Eagles, it was the only part of the running game that worked. While running backs Jonathan Stewart, Christian McCaffrey and Fozzy Whitaker managed to combine for just one yard on 13 attempts, Newton rushed for 71 yards on 11 carries.
"That's part of our running game. It's a tool in our tool belt," Shula said. "If certain things aren't working because of certain schemes or different things, that's something we have in addition to go to. A lot of teams don't have that."
Obviously, few teams have a quarterback willing and able to scramble eight yards and then dive head-first for the pylon.
"He fought like a warrior – the whole game," Shula said of his quarterback, who also attempted a career-high 52 passes. "I think that was probably the hardest I've seen him play."
MIXED RESULTS: It was no secret that stopping the Eagles on third down would be a key to the Panthers' success. Philadelphia ranked first in the NFL in third-down conversion rate at 53 percent. Carolina kept the Eagles well under their average, holding them to a 36 percent (5-for-14) conversion rate. But the Panthers allowed the Eagles to move the chains on an important third-and-16 in the third quarter that ultimately led to a touchdown.
"I thought we should have had a little bit more urgency from a standpoint of finishing," defensive coordinator Steve Wilks said. "It was across the board. Not that one particular play, but on several plays, I thought we were in great position.
"But again, as we've coached the details and fundamentals, there was a couple of times I thought we could've got the ball out by just reaching for the quarterback's arm."
View the top photos from Panthers vs. Eagles by team photographer Melissa Melvin-Rodriguez and second shooters, Jamey Price and Andrew Dye.