CHARLOTTE – If there's a go-to guy to describe how Christian McCaffrey is playing right now, it wouldn't be McCaffrey. But I had to at least try after his latest masterpiece.
"I think I'm playing well," he said in his typically understated way after torching the Jaguars for 237 scrimmage yards and three touchdowns. "I think there's a couple things here and there that I've got to get better at."
That's such a McCaffrey response, but it does help explain how he continues to amaze week after week. He's tearing up the league, yet because he's on a constant search to get better, he doesn't enjoy the moment long.
So since McCaffrey runs from questions about himself about as fast as he runs away from defenders, I spent Sunday's postgame asking others what we should say about him.
Head coach Ron Rivera
BV: Do you have any superlatives left to describe Christian right now?
RR: No, you guys just keep pulling out the thesaurus. There's a whole bunch of words you can use to describe the way he plays. The amount of energy he plays with — that first drive and the way he finished that first drive was spectacular.
Defensive tackle Gerald McCoy
BV: We have to write about Christian every week. Now again today. If you were writing, what would you say about him?
GM: If I was writing, I would see if he's from earth. I'd have to check to see if he's from Asgard or something. I don't know where that dude's from. If the season ended right now, he's the MVP.
BV: When you played against him before, what did you think of him?
GM: You always knew he had elite speed, and he was elusive, but now he's kind of figured it out. Guys like that, I always say, he's not a running back, he's a weapon. He can do everything. There was even one time where he was about to throw a pass, I was like, 'All right, c'mon, now.' He threw a pass, he rushed his butt off, caught the ball. That one where he dropped it, I thought he was going to make the one-handed catch. I was like, 'If he do that, enough is enough.' He's just great. I'm glad he's on my side.
Edge rusher Brian Burns
BV: Gerald just said Christian may be from Asgard.
(Fellow edge rusher Christian Miller chimes in from the next locker: I'm guessing that's a superhero thing?)
BV: Yeah, I had to Google it and saw it was Marvel. So figured Brian would know if that makes sense. What's Asgard?
BB: That's where Thor's from. Thor, Loki, Oden. You know what I mean?
BV: Not really, but let's go with it. What are their qualities?
BB: Super. They're not human. They're gods. Demigods and gods.
BV: Is that the level Christian's at right now?
BB: Do you see what he's doing? It's ridiculous. He's not human.
BV: So he's got to be from another planet or dimension?
BB: He's probably like Thor's long-lost brother or something like that. The man's not human. I've never seen somebody jump over a person and make that person hit the other person. I've never seen that ever before in my life.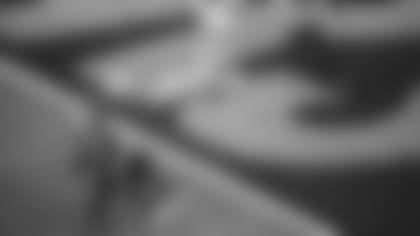 BV: And last week, you probably never saw a catch like that?
BB: He stole my Spider-Man! You see that post where they did Spider-Man thing and he brought the ball back in?
BV: Yup, that Instagram post.
BB: Every week he's doing something crazy, something ridiculous. I don't know where he's from. I'm pretty sure he bleeds blue. He doesn't bleed red.
Long snapper J.J. Jansen
BV: You're never at a loss for words. So what words are left for Christian?
JJ: He's amazing. He's a great leader on the team, a fantastic player. Everyone can probably pick whatever adjective they want.
BV: And yours would be amazing?
BV: You'd figure one of these days he's going to peak. But each game ...
JJ: He just keeps getting better.
JJ: He's a hungry football player. He wants to get better and he wants to win. He's doing the same things every week, but it's so fantastic that it's hard not to think, 'Wow, I haven't seen that before.' He just keeps doing the same things over. We're used to seeing guys make a move and make a big play and that's kind of the end of it. You never see it again. Well, he makes the same move week after week after week after week in big situations, big plays in the game. He's amazing.
Running back Reggie Bonnafon
BV: After another MVP-like day, what can we now say about Christian?
RB: What now? Ironman, maybe? That dude there, I don't know. I'm just as speechless and I see the guy every day.
RB: There's not one. That guy's never satisfied. He's never done. His mindset is unmatched.
BV: As a guy who plays the position, how would you try to stop a running back like him?
RB: He's not a running back. He plays running back, but he's not. That second touchdown he had today, I don't think anybody could've guarded him. He's just a phenomenal player and I'm honored to be in the position to learn from him day in and day out.
Edge rusher Bruce Irvin
BV: We're running out of words to describe Christian. What would your words be?
BV: What can defenders do about him when you know he's coming?
BI: Nothing. He's the top back in the league, man. From running it, to splitting out, catching it, blocking. He does it all. I'm just happy to be in his presence. He's a great, great, great back.
BV: So you think he's the best back in the NFL?
BI: Oh, he's the No. 1 back in the league for sure. All-around back? For sure.
BI: He does it all. Comes in, doesn't complain. Carries the ball 30 times a game, doesn't complain. You gotta take your hat off and commend a guy like that. No matter how much success he's having, he's continuing to stay grounded and stay humble and continuing to work like he's not even having success. So he's a special guy.
BV: What did you think of him before you got here?
BI: I thought he was good.
BV: And now that you're here?
BI: I didn't know he was that good. I'm used to playing with Marshawn (Lynch). He was pretty good, too. Christian just does it all. I think if you put Christian at the slot receiver, he'd still have just as much success as he is getting the ball in the backfield. He's a special guy.
Left guard Greg Van Roten
BV: We're tasked again with finding words to use about Christian. You're an Ivy League guy. What would you say about him?
GVR: Consistent. How's that one?
BV: That's probably a little tame.
GVR: Use any superlative you want, but in the NFL, you want to be consistent and the guy's consistent. That's huge. You know where he's going to be, what he's going to do and all we've got to do is get him opportunities to be successful.
BV: Do you hear the crowd reacting when you're making a block and just know he did something?
GVR: Yes. Whenever you run a simple play, like an inside zone, and you hear a roar, you know something happened. Then you look up and he's just running free.
Safety Tre Boston
BV: When I say Christian McCaffrey, you say what?
TB: I say that boy good, that boy great, that boy amazing. He is something we've never seen before. It is something truly special. I've been able to take from older guys, older vets when we're watching greatness to really hone in and understand what's happening in front of you because I've watched every single game and I didn't know it was like this. Kudos to him, man. He cold.
BV: When you say he's not like anything we've ever seen before, what are we seeing?
TB: Greatness. You're watching greatness right there. Everybody knows where the ball's going. You can't stop it. And if he does have a game where you do contain him, good luck doing it two times in a row. He's just a talented guy. His dad gives me hope for my son. Maybe I can do something like that with my kid.
Cornerback Donte Jackson
BV: You've had to just watch the past couple weeks. So when you're watching Christian, what are you thinking?
DJ: War dog, man. War dog. A dude that you can count on to make a big play. We do. We count on him to make a lot of big plays. So war dog.
BV: He keeps juking out guys.
BV: You're making it sound easy, though.
DJ: As a skill player, it kind of is easy cause he sets a move up. But as a big guy, it's kind of hard cause you see a little guy moving and the only thing you want to do is move and react to his movements and then he just pops back inside. We kind of already know it's about to happen cause you see him setting it up. He sets up the dead leg. You set it up and dead leg 'um. It's nasty.
BV: But as a defender, how annoying is that when you know it's coming and he still does it?
DJ: You can't prepare for it. You can't prepare for that type of explosiveness. He's ridiculous.
BV: That's what I'm saying. So even though you're saying stay inside, it's not that easy.
DJ: Yeah, he's ridiculous. That dude does not make any sense. He does not make any sense. He's like Tecmo Bowl.
BV: Who is he in Tecmo Bowl?
DJ: Christian McCaffrey! He's his own guy.
BV: You're too young to have played Tecmo Bowl.
DJ: I know about it, though.
BV: So you know about Bo Jackson in that game?
DJ: Bo Jackson is the only one I know. He was the cheat code. And now we've got this guy coming in.
DJ: Yeah, (Mike) Vick on '04 Madden. Cheat code, man.