SAN JOSE, Calif. – There are four new faces in the offensive line's makeshift meeting room at the team hotel in Santa Clara. The anchor of the line, All-Pro center Ryan Kalil, and veteran left tackle Michael Oher aren't even here to meet them, and starting right tackle Daryl Williams has his left foot in a protective boot.
These are challenging times for the Carolina offensive line.
But guard Trai Turner refuses to let those obstacles stand in the way of another week of preparation.
"It's always going to show your character when you go through tough times like this," said Turner, suddenly the leader of this patchwork unit. "Of course we hope those guys heal up as soon as possible. That's the nature of the game. It's tough to say, but it's something that you get used to.
"Honestly, I would say we're encouraged. We have a lot of guys in different positions that are ready to step up and make the best out of it."
Turner led by example last week against the Oakland Raiders. When Williams went down, he shifted from right guard to right tackle and had to tussle with star defensive end Khalil Mack. It was Turner's first game action at tackle since high school.
"I took it in stride," Turner said. "I went out there and I gave my team all my effort."
The same will be expected of everyone along the offensive line.
With Kalil and his backup Gino Gradkowski on injured reserve, center Tyler Larsen is bracing for his first NFL start after being thrown into the fray and holding his own versus Oakland.
"We're all hard-nosed football players," Larsen said. "We're going to get after it no matter what's thrown at us."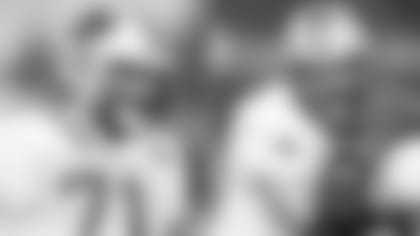 Behind Larsen and Turner are two newly signed linemen. Center Ryan Wendell is a seven-year veteran with 79 games and 49 starts under his belt. Offensive tackle Dan France is on an active roster for the first time after two seasons on practice squads. Both practiced with the Panthers for the first time on Wednesday at San Jose State.
"They're here for a reason," Larsen said. "We're happy to have them here to fill in, and they have the same mentality that we've got. That's what we need."
And with unwavering focus, the Panthers will move forward with what they've got.
"Injuries are part of the game. Nobody feels sorry for you," tight end Greg Olsen said. "There is still going to be a game on Sunday. Seattle doesn't care. Just have to keep rolling."
View photos of the Panthers' week of practice leading up to their game against the Seahawks.