After falling to the Seahawks in the season opener, the Panthers travel to Buffalo to face a Bills team equally as determined to avoid an 0-2 start to the 2013 season.
"I think every game is a must win," linebacker Luke Kuechly said. "You don't go into a game thinking, 'Oh, if we win this great, if we lose, oh well.' Every game is we are going to win. That's our mindset going in. We've prepared enough and done everything we can to get a win."
Here's what to watch in the Panthers' first road test of the season on Sunday at Ralph Wilson Stadium.
SCORE MORE: To no one's surprise, each member of the Panthers' offense agreed on a major point of emphasis for Week 2: They need to score more points.
Carolina mustered only seven against Seattle. The Bills allowed 23 in a two-point loss to the New England Patriots.
But regardless of the opponent, the Panthers know they need to put more points on the board to earn a victory.
Kuechly, whose defense allowed just 12 points to the Seahawks, is confident his teammates on offense will do just that.
"They know that they can score," Kuechly said. "Sometimes they are going to pick us up, and we're going to pick them up. It goes back and forth, that's why it's a team. Each side of the ball can pick each other up in different situations."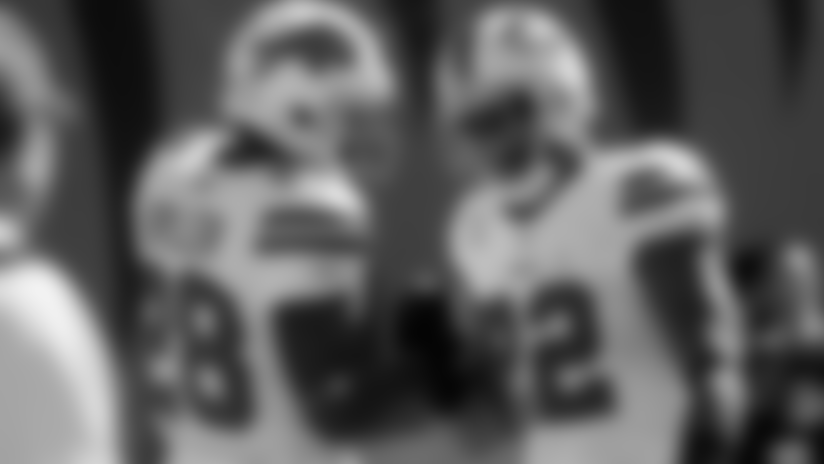 ON THE RUN: The Carolina defense will be tested by an up-tempo attack in Buffalo.
Fortunately, preseason games against the Philadelphia Eagles and Baltimore Ravens, to a less extreme extent, helped prepare the defense for such fast-paced challenges.
"The most important thing is to control the chains," head coach Ron Rivera said. "Want to slow them down? Get them off the field."
Containing the run game will be key. Last week, Carolina held Seahawks running back Marshawn Lynch to 43 yards on 17 carries.
On Sunday, they'll be tasked with bottling up a formidable duo in C.J. Spiller and Fred Jackson.
"Their running backs are probably the top two running backs on one team in this league," linebacker Thomas Davis said. "They have a lot of good athletes, and we have to be prepared for those guys."
DOWN TO THE D-LINE: Quarterback Cam Newton didn't hesitate when he was asked to describe the biggest challenge the Buffalo defense presents.
"They have an explosive defensive line," Newton said. "We have to control them up front first."
Defensive end Mario Williams and defensive tackle Marcel Dareus anchor a front line that has developed into a strength for the Bills, much like the defensive line in Carolina.
Led by dynamic edge rushers Charles Johnson and Greg Hardy, the Panthers will do their best to make things uncomfortable for rookie quarterback E.J. Manuel, who demonstrated poise in his regular season debut against the Patriots.
"My thing in the game is dishing out punishment, hitting quarterbacks, getting them on the ground," Hardy said. "That's how you create momentum. The guys rally."
Added Rivera: "Do you try to rattle the young quarterback? Absolutely."