The Panthers enter division play for the first time in 2013, hoping to get above .500 for the first time since 2008 when they face the Tampa Bay Buccaneers on Thursday Night Football at Raymond James Stadium.
"It would be a great boost of confidence. I've been here five years and I've never been over .500," cornerback Captain Munnerlyn said. "It's sad to say, but we've got a great opportunity to get over .500 right now. I'm excited about it."
"Not just being over .500, but being 1-0 in the division," quarterback Cam Newton said. "That's really what counts. It's not only a must-win – it's a must-must win with it being a division opponent."
While the Panthers (3-3) are surging, coming off consecutive victories, the Buccaneers (0-6) are desperate to win their first game of the season.
"We're not going to get jaded by their record," Newton said. "We know they're a heckuva team that's just waiting for that game that can prove they're not what their record shows."
Only two of Tampa Bay's six losses have been by double digits, and three of them were decided by a field goal or less.  
"Believe me, I can empathize with them just because of how close the games have been," head coach Ron Rivera said. "It's not like they are getting blown out."
The Buccaneers won both contests against the Panthers last season, earning a 16-10 victory in the season opener and a 27-21 overtime victory in Week 11.
Here's what to watch when these division rivals meet for the first time in 2013.
FAST START: As free safety Mike Mitchell put it, "It's the NFL. No matter who it is, they can come out and whip you."
The Panthers are aware of their opponent's winless record, and that makes a strong start all the more important.
"When you get a team that's down, if you come out and jump on them (early), it'll kind of be like, 'Here we go again,'" Mitchell explained. "But if you give them some hope, then you are about to get that dogfight. And as the game stays close they're like, 'Man, we are this close to our first win.' We don't want to give a team that."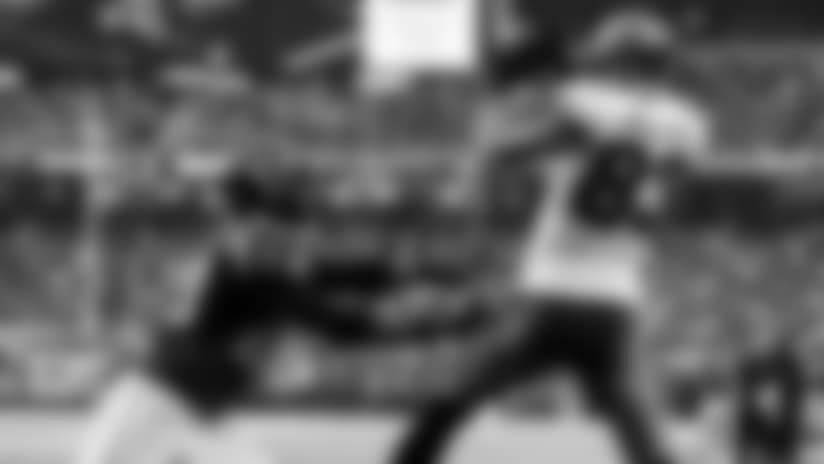 NEW QB, SAME TOP TARGET: Quarterback Mike Glennon will make his fourth career start Thursday, and the Panthers defense certainly hopes to put some pressure on the 6-foot-7 rookie out of North Carolina State.
Glennon has thrown for 722 yards, and he's completing 58.5 percent of his passes. He's also thrown five touchdowns and three interceptions.
The Buccaneers' unquestioned No. 1 receiver is Vincent Jackson, who Glennon targeted 22 times last week against the Atlanta Falcons (Jackson finished with 10 catches for 138 yards and two touchdowns).
The 6-foot-5 Jackson is matchup problem for just about any secondary, and Munnerlyn knows the type of challenge that he presents.
"I just have to be physical with him," Munnerlyn said. "I've got to try to knock the timing off. That's the key with those big, tall receivers."
GAINING ON THE GROUND: Both teams have proved difficult to run against. The Panthers rank fourth in rush defense (84.5 yards/game) and the Buccaneers rank fifth (88.8).
After a 120-yard outburst against the New York Giants in Week 3, running back DeAngelo Williams has rushed for 143 yards in the last three games combined.
Rivera said opposing teams have loaded the box in an effort to stop Carolina's rushing attack, and Williams can expect to see more loaded fronts against Tampa.
The Buccaneers will be without running back Doug Martin, who is out with a shoulder injury. That means 2013 sixth-round draft choice Mike James (17 career carries for 57 yards) will serve as the lead back Thursday.
WHERE TO WATCH: Thursday's game will be broadcast on the NFL Network – the league's national cable channel – but it also can be seen in the Charlotte television market only on WMYT My TV12.
The Charlotte television market is comprised of the following counties in North Carolina: Alexander, Anson, Ashe, Avery, Burke, Cabarrus, Caldwell, Catawba, Cleveland, Gaston, Iredell, Lincoln, Mecklenburg, Richmond, Rowan, Stanly, Union and Watauga. In South Carolina, it consists of Chester, Chesterfield, Lancaster and York counties.