Beginning with organized team activities and continuing with training camp, preseason games and finally roster cuts, the Carolina Panthers have taken it one day at a time.
At the same time, it's all been leading up to this day.
"It's been a long run for us," said head coach Ron Rivera, whose Panthers will at long last kick off their 2014 season Sunday at the Tampa Bay Buccaneers (4:25 p.m., FOX). "There's been a lot of speculation about who we're going to be; now we'll find out. That's why you play the games – to find out who you are.
"I'm excited about this football team."
The Panthers, coming off a 12-4 season, are looking to become the first team to repeat as NFC South champions and the first team in franchise history to record consecutive winning seasons. The roster looks decidedly different in some key spots, most notably with the departures of decade-long staples Steve Smith at wide receiver and Jordan Gross at left tackle. But quarterback Cam Newton, the stable of running backs and a fierce front seven remain intact along with the addition of some interesting offseason acquisitions.
"I think we've done some good things. Some of the people we were counting on have stepped up," Rivera said. "We still have a couple of questions to answer, and hopefully we'll get those things answered as we start to play."
Here are some areas to keep a close eye on as the Panthers begin their 20th season – a season they hope to make memorable.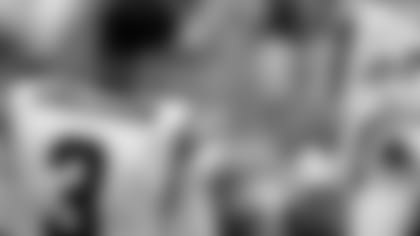 QB QUESTION: Newton, who has started every game in his three NFL seasons, is listed as questionable with a rib injury suffered August 22. Rivera has indicated it will be a close-to-game-time decision whether Newton can go or Derek Anderson will get the call.
"Whoever lines up," Rivera said, "I think we have a chance to win."
Rivera has said the game plan doesn't change if there's a change under center. Newton obviously is the more mobile of the options, but how effective he can be in the zone read and as a scrambler likely would be limited by the rib injury and possibly his offseason ankle surgery.
If Newton doesn't play, Anderson was effective throughout the preseason and has actually had more time with Carolina's new receiving corps because of Newton's injuries.
HOLDING THE LINE: Regardless of the plan under center, the offensive line must hold its own.
Gross' retirement led the Panthers to move Byron Bell from right to left tackle and to move Nate Chandler from right guard to right tackle. The duo has been questioned all offseason, and now is their chance to answer the naysayers.
That being said, the offensive line is anchored by Pro Bowl center Ryan Kalil, while the Buccaneers defense is anchored by defensive tackle Gerald McCoy. In addition to 9.5 sacks – fourth in the NFL among defensive tackles – McCoy helped the Buccaneers lead the league in run defense last season.
"I have a lot of respect for him having played against him for a while," Kalil said. "It's definitely a talented defense, but we're excited for the challenge. It should be a fun game to kick it off."
HOLDING ONTO THE BALL: An offense under pressure is an offense susceptible to turnovers, and that's about as certain a formula for failure as there is.
For all the ways a matchup can be broken down, there is this: When the Panthers had fewer turnovers than their opponent last season, they were 8-1. When they had more turnovers – including their playoff loss – they were 1-3 (The Panthers were 3-1 when the turnover battle was even-steven).
The Panthers did a remarkable job taking care of the ball in 2013, with their 16 regular-season turnovers ranking as third-fewest in the league. Their 30 takeaways tied for sixth, resulting in a plus-14 ratio that tied for third.
The Buccaneers, despite going 4-12 last season, were just a tick behind, with a plus-13 ratio, making them the only team in the top seven not to make the playoffs. Tampa Bay was able to take care of the ball last season, even if it wasn't capable of making it matter.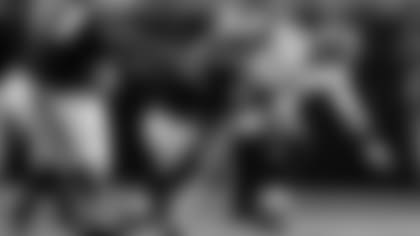 RUSH HOUR: The main reason the Buccaneers weren't able to take advantage of their turnover ratio was that the offense could hold onto the ball but couldn't do much with it. Tampa Bay ranked last in the NFL with 277 yards per game and 30th with 18 points per game in 2013.
The Panthers outscored Tampa Bay 58-19 in sweeping the season series in part by racking up eight of their NFL-best 60 sacks in the two meetings. The Buccaneers have upgraded their offense with veteran quarterback Josh McCown and rookie receiver Mike Evans now in the mix, and with running back Doug Martin (who missed both Panthers games with a shoulder injury) and wide receiver Vincent Jackson back in the mix. But their offensive line remains a work in progress, a situation the Panthers must exploit.
"As a defensive line, the first thing is get-off," defensive tackle Kawann Short said. "We have to be disruptive, have to disrupt that offensive line and get back there to affect the quarterback."
SPECIAL CIRCUMSTANCES: Points could be at a premium, which would put special teams play at a premium.
While Panthers kicker Graham Gano is coming off a career year, the Buccaneers are breaking in a new kicker. Patrick Murray, who wasn't employed as a rookie last season, beat out veteran Connor Barth for the job. If the game comes down to a kick, the Panthers have the experience edge.
If it comes down to fielding a kick, both teams are taking new approaches. The Panthers relied on Ted Ginn and the Buccaneers on Eric Page last season, but Carolina will go with undrafted rookie Philly Brown for punt and kick return, and Tampa Bay plans to feature running back Bobby Rainey on punt return and wide receiver Chris Owusu on kick return. A big play in this area could make a big difference.