The calendar turns to December for the Carolina Panthers when they kick it off at the Kansas City Chiefs on Sunday.
The Panthers hope to turn over a new leaf.
"It felt great to win, and on Monday Night Football it felt even better. But what our team needs to do is figure out a way to get a winning streak going," left tackle Jordan Gross said. "The month of December can be a lot of fun for us if we do that."
The Chiefs organization announced Saturday afternoon that Sunday's game will go on as scheduled (1 p.m., CBS), one day after an off-field tragedy claimed the life of Chiefs linebacker Jovan Belcher and one other person.
"After discussions between the league office, Head Coach Romeo Crennel and Chiefs team captains, the Chiefs advised the NFL that it will play tomorrow's game vs. the Carolina Panthers at its originally scheduled time," the Chiefs said in a statement.
The Panthers (3-8), after defeating Philadelphia on Monday, will be seeking their first back-to-back wins of the season against a Chiefs team (1-10) that has lost eight consecutive games.
"You can just tell how much better we've become. We're trending up," Panthers rookie cornerback Josh Norman said. "The last five or six games, we want to win all of them, but we're taking it one game at a time."
Here are some keys for Carolina to keep it going.
---
ROAD WARRIORS: The Panthers are 2-3 on the road and have actually outscored their opponents, with the three losses coming by a total of nine points and each victory coming by eight points.
"We've played well on the road," Panthers head coach Ron Rivera said. "A lot of good things have happened the last few weeks, and really we've had moments all year.
"Now you're seeing more consistency more than anything else. Hopefully this week it will continue."
Arrowhead Stadium has always been a difficult place for visitors, but the Chiefs are 0-6 there this year. Just last week, though, they battled Denver at Arrowhead before falling 17-9 and earlier lost 9-6 at home to Baltimore.
"This team is pretty confident about itself right now, but this will be a big challenge," Rivera said. "When you break Kansas City down, there's a lot of similarities to us. They've played a lot of close games."
---
THE WAY THE BALL BOUNCES: The Chiefs' biggest problem has been turnovers. They've turned it over 32 times – eight more than any other NFL team – and their minus-21 ratio is the most in the league by seven.
The Panthers are in the middle of the pack with a zero ratio, having lost the ball 18 times while taking it away 18 times. A 3-0 edge in the turnover battle was a key component to the victory in Philadelphia, and it could be a similar story Sunday.
---
IN THE RUNNING: The Chiefs also are last in the league in scoring (14.6 yards per game) and 29th in passing yards (190.5), but one thing they can do is run the ball.
With Jamaal Charles closing in on a 100-yard season and Peyton Hillis finally healthy, Kansas City ranks fourth in the NFL with 145.6 rushing yards per game. That has to be a chief concern for the Panthers, who have handled most of the big-name backs they've faced but just coughed up 178 yards to Eagles rookie Bryce Brown.
The Panthers also just lost run clogger Ron Edwards for the season with an elbow injury.
Kansas City knows that the running game is its best chance for victory, but the Panthers know that as well and must respond accordingly.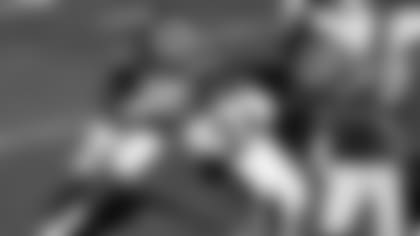 BOWE IN ARROWHEAD: The Chiefs have bounced back and forth between quarterbacks Matt Cassel and Brady Quinn as the losses have mounted, but there is still one constant in the passing game – Dwayne Bowe.
Even with the offensive struggles, the veteran wide receiver has still managed 53 catches for 667 yards and three touchdowns – comparable to Steve Smith's numbers for the Panthers.
"I'll have my work clothes on again," Norman said. "It's another week and another great receiver."
It has taken Bowe 105 targets to reach 53 catches, and Quinn will be the one targeting him this week after completing 13-of-25 passes for 126 yards a week ago. It isn't intimidating stuff, but with Bowe in the mix and starting corner Captain Munnerlyn possibly out of the mix with a hamstring injury, the Panthers can't ignore the threat.
---
ON BALANCE: When the Panthers have the ball, they could have their hands full.
"They've given a lot of teams a lot of fits," Gross said of Kansas City's defense. "Their record isn't a reflection of their defense, for sure. They're a good group."
For the Panthers to keep the Chiefs' pass rushers and secondary personnel off-balance, Carolina must feature balance and not rely too heavily on quarterback Cam Newton's arm.
The challenge will be that much more difficult by the fact that running back Jonathan Stewart isn't likely to play, but DeAngelo Williams has to be excited about the prospect of an extended opportunity.
If the Panthers can get the running game going, they might just find themselves using it to run out the clock on another road victory.