Carolina is still within striking distance of the NFC South division lead in Week 10, but at some point, the Panthers – 1-5-1 in their last seven games – need to start helping themselves.
"We have to start making hay, we have to start taking advantage of every opportunity we have," head coach Ron Rivera said. "We have a big game coming up on Monday night, and we have to take care of our business."
After falling to the New Orleans Saints on Thursday Night Football, the Panthers are back in prime time against the Philadelphia Eagles (6-2) on Monday night at Lincoln Financial Field (8:30 p.m., ESPN).
"It's a good football team that we are going to go up and play against," Rivera said. "But we are a good enough football team to win this game."
Said left tackle Byron Bell: "We have to put everything behind us – the record, what happened in the past – we have to put all that behind us and play the game. We have to take it one play at a time, one snap at a time."
Here's what to watch as Carolina looks for a much-needed win to snap a three-game losing streak.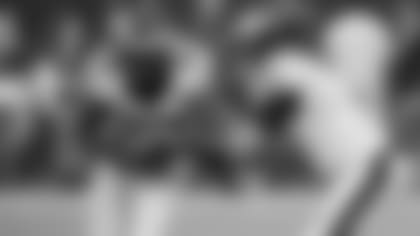 NEW QB, SAME UP-TEMPO OFFENSE: Mark Sanchez will make his first start of the season in place of injured quarterback Nick Foles, but a new signal caller won't change Philadelphia's offensive plan.
The Eagles move faster between plays than any team in the league, and it puts a lot of stress on a defense. Opportunities to substitute are limited, and efficient communication is critical.
"You have to be lined up and ready to go with this offense," said safety Thomas DeCoud, who will return to the lineup after missing last week's game with a hamstring injury. "You can't be in the midst of talking, trying to get guys lined up. You have to know what you're doing and be where you need to be."
Philadelphia's attack, which ranks fourth in the NFL in both scoring, with 29.3 points per game and yardage with 409.3 yards per game, presents many challenges for Carolina to contend with. But Rivera wants the Panthers defense focused on its own scheme so they are better prepared to dictate instead of react.
"The truth of the matter is it's about how we do our job," Rivera said. "If we play within ourselves, play within our schemes, I think we have an opportunity to play well. If you get caught up in all the things they do and you start reading the wrong things, it can create havoc."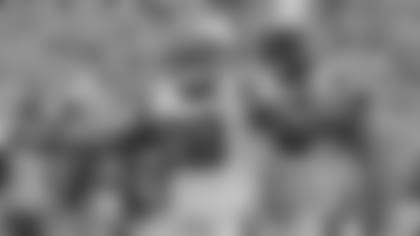 POSSESSION KEY FOR PANTHERS: Considering how many plays the Eagles typically run and how quickly they run them, Carolina's ability to control the clock and allow its defense to rest will be critical.
Sustaining drives has been a challenge lately for the offense. But a healthy offensive line and running back corps should allow the Panthers to have some success on the ground against the Eagles' 20th ranked rush defense, which lost inside linebacker and unquestioned leader DeMeco Ryans to an Achilles injury last week.
"We have to focus on having success on early downs, and our third-down conversion rate has to be higher," quarterback Cam Newton said. "We put ourselves in a hole if we don't do well early. It's on us to start fast."
TURNOVER TALE: Turnover ratio is often a good indicator of a team's success. But you wouldn't know it by looking at what Carolina and Philadelphia have done this season.
The Panthers are plus-four in takeaway-giveaway differential, good for eighth in the league. The Eagles are minus-10, which ranks 30th. Just three other teams that are above .500 have a negative turnover ratio.
Philadelphia's high play total mitigates that damage, but if Carolina records takeaways they'll need to turn them into points – something they've struggled to do.
"When our defense gives us great field position, we have to capitalize on it," Newton said.