Even though just one team will be officially playing for something Sunday in Atlanta, there are a multitude of reasons to believe the Falcons (4-11) won't simply lay down for the playoff-bound Panthers (11-4).
The Falcons want to cap a disappointing season by denying Carolina the NFC South title, and they'd love to send future Hall of Fame tight end Tony Gonzalez into retirement with a victory.
That's all well and good, but when it's a division game, the circumstances don't necessarily matter.
"It's a rivalry game, so they always give us their best effort," Panthers defensive end Charles Johnson said. "Every time we play them, it's going to be a good game. They're going to come out and give us their best effort, and we're going to come out and give them our best effort."
The Panthers are always fired up for the Falcons, and the playoff implications merely adds another level. A Panthers victory (or a New Orleans Saints loss later Sunday) will earn Carolina its first NFC South championship since 2008 as well as a first-round playoff bye.
Here are some keys to the Panthers getting the best of their rivals.
CHARLES (BACK) IN CHARGE: The one constant during an injury-riddled season for the Falcons offense has been quarterback Matt Ryan. But with all the injuries around him, he hasn't been his consistent self when opposing teams put pressure on him.
That's the plan for the Panthers defense, which ranks second in the NFL with 51 sacks. It's also a challenge that Johnson, a Georgia native, will heartily accept.
"You want to play well when you go home," Panthers head coach Ron Rivera said. "He reacts very well to playing in Atlanta."
Johnson has recorded at least one sack in every game at the Georgia Dome since becoming a full-time starter in 2010, highlighted by a franchise-record 3.5 sacks last season. But Johnson, who missed two games with a knee injury, has just half-a-sack in three games since returning.
"He missed basically two weeks of playing and a third week spent getting ready to play again – getting his conditioning and timing back," Rivera said. "He's played well at times; now it's time for him to play consistently well. I'm excited about having him at full strength."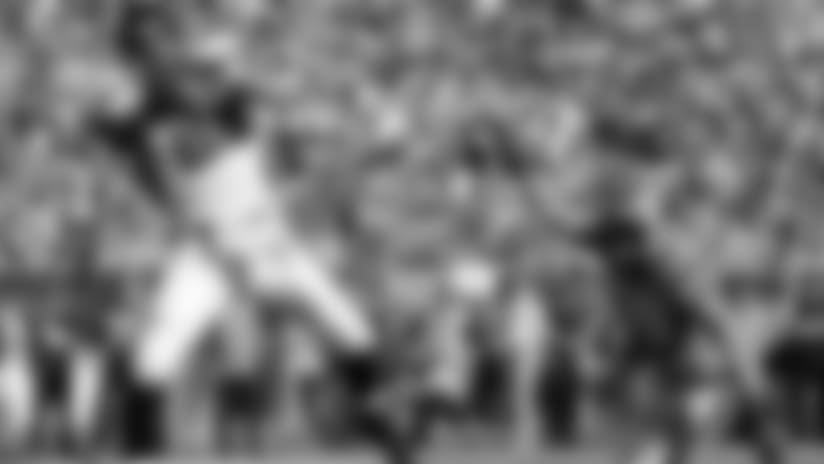 GOING GONZO: The one most reliable target at Ryan's disposal has been Gonzalez, who isn't heading quietly into retirement. He will enter his final game with 79 catches for 803 yards and eight touchdowns.
"He knows how to get open, and Matt Ryan will put the ball exactly where it needs to be," Panthers linebacker Luke Kuechly said. "He's so knowledgeable. He's been around and has seen everything. We've just got to make sure we know where he is and play good technique."
Gonzalez had five catches for 77 yards in the first half of the teams' meeting in Week 9, helping the Falcons stay within 14-10 at halftime. He had but a single catch for 4 yards in the second half as Carolina outscored Atlanta 20-0.
The Panthers want to pick up where they left off.
STOPPING THE RUN: The Panthers rank second in rushing defense. The Falcons rank dead-last in rushing offense.
A continuation of those trends should lead to a Carolina victory, but it isn't a given. Steven Jackson has healed from a hamstring injury, and, while still putting up modest yardage totals, he has scored six rushing touchdowns in his last five games. He showed his first signs of life against the Panthers in Week 9, gaining 57 yards on the ground and catching three passes for 19 more.
THE OTHER SIDE: The Falcons have some scary parts on offense but haven't put much fear in opposing offenses. Just three defensive units have yielded more points and just four have allowed more yards than Atlanta.
The Panthers have played winning football on offense thanks to clutch drives and lack of turnovers, but the unit needs to gain some confidence heading into the postseason – a task made taller by the absence of wide receiver Steve Smith with a knee injury.
Carolina enters the regular season finale ranked 19th in the NFL in scoring and 25th in yards.
"Offensive performances haven't been very great," Panthers quarterback Cam Newton said. "I have to be better. I will be better. I'm expecting myself to be better, and things will have to change offensively."
FIGHTING CHANCE: The Falcons have collectively decided they won't simply mail it in for their finale, a feeling that could grow stronger still in a rivalry game at home.
The Panthers need to give them reason to collectively change their minds. A strong start for the Falcons, and their determination will only grow. A strong start for Carolina, and Atlanta could begin to lose interest.
The Panthers have received the opening kickoff in four consecutive games but have only one field goal to show for it. Whether it's the offense or the defense, Carolina needs to strike first and fast.