When the Panthers suffered a lopsided loss at the Minnesota Vikings in Week 13 to drop to 3-8-1, common sense suggested that the only likely playoff implications come the regular season finale would involve the opposition.
But it's been an uncommon season for an uncommon team, one that will conclude Sunday with the Panthers and Atlanta Falcons vying for the NFC South title and a playoff berth at the Georgia Dome (4:25 p.m., CBS).
"We have a chance to do something that's never been done in the NFC South, and that's win back-to-back division titles. I'm excited about the opportunity," head coach Ron Rivera said. "We're in a great position. Go out Sunday and win this football game, and then you're in the playoffs where everybody is 0-0. The records won't matter after that."
The records won't matter Sunday either, but for the record, the Panthers enter the finale at 6-8-1, the Falcons at 6-9. The winner of the grudge match – the Falcons edged Carolina 19-17 in dramatic fashion in Week 11 – will host a playoff game next week.
Here are some keys to the Panthers coming out on top.
KEEP ON KEEPING ON: The Panthers struggled for three quarters in the teams' first meeting before catching fire in the fourth. It proved too little too late, and then Carolina went cold again after their bye thanks in large part to a pair of blocked punts returned for touchdowns in Minnesota.
Even in that loss, though, the running game behind a finally settled offensive line began to flourish, and a change in the passing game first implemented against Atlanta that featured more of speed receiver Philly Brown began to pay dividends.
Since then, those developments as well as a rapidly developing secondary have the Panthers playing winning football.
"I think we're better (than the first Atlanta game)," Rivera said. "The biggest thing is the consistency of certain things. Our offensive line is playing consistent and better, like a cohesive unit now, and I like how we've settled on our defensive backfield and the development of our wide receivers.
"We are better as a group, maybe more experienced. I feel comfortable with who we are."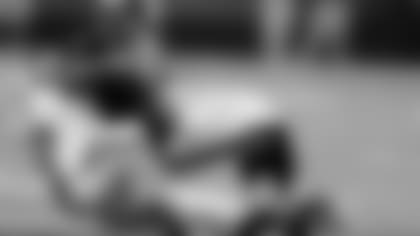 SAME STORY: The Panthers also want more of the same from defensive end Charles Johnson, who has played his best football of the season over the last month and always seems to put his best foot forward in his native Georgia.
Johnson had just four sacks through 10 games but has 3.5 in the last five, and he's been even more disruptive than the numbers suggest. He's always been a menace in the Georgia Dome, recording at least one sack in every Panthers game there since becoming a full-time starter in 2010. That includes a total of 5.5 sacks in his last two trips home.
Given the multitude of weapons Falcons quarterback Matt Ryan has at his disposal, getting pressure on him is paramount.
RED ALERT: Given the Falcons' potent offense, the Panthers must be prepared to match them point for point – seven at a time rather than three.
"We're not really thinking about their offense and having to put up a certain amount of points. We just want to maximize every opportunity we get to score points, then we'll let the rest take care of itself," wide receiver Jerricho Cotchery said. "We're just focusing on maximizing every possession."
Just five NFL teams score touchdowns in the red zone at a lower percentage than the Panthers' 45.5-percent rate, and the concerns go even deeper than that. Carolina had endured more than its share of setbacks once in field goal range, problems in the range of the 30-yard line that have led to either long field goals or even being pushed out of field goal range.
The Falcons are the only NFL team allowing more than 400 yards a game, though they're actually in the middle of the pack in red zone defense. The last time Carolina played on the road with its season on the line, the Panthers delivered in the red zone in a 41-10 victory over New Orleans in Week 14.
"It's key, us being able to move the ball inside the 20 and being able to cash in with seven," Cotchery said. "Hopefully we can maximize those possessions like we did in the Saints game."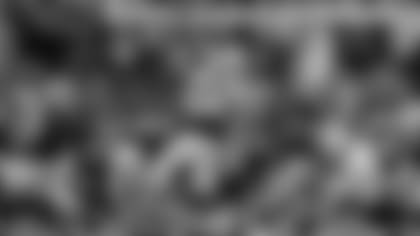 ON THE OTHER HAND: Of course Carolina wants Graham Gano kicking extra points rather than field goals, but this is the type of game that could easily come down to a field goal.
That's what happened in the first meeting, when Gano missed a 46-yarder with 1:22 left and then had a 63-yard attempt blocked on the game's final play.
"You've just got to move on," Gano said when asked how he dealt with the 46-yarder. "We had another field goal just a minute or so later. Of course it's frustrating and you don't forget it, but if you dwell on it, you won't last long in this league."
Gano made 11-of-13 field goals from 40 or more yards last season. This season, he's made 9-of-14, though that includes the 63-yarder.
"We have all the confidence in the world in him," Rivera said. "He's going to get an opportunity to win a big one for us, whether it's this week or another time. This is about as big as they get, so who knows?"
Added Gano: "That's what you dream of every game, what you hope for. Hopefully it does come down to that, and I feel confident that I'll be able to put it through."