As a player and coach, Ron Rivera has spent a good amount of time in the visitors locker room at the hallowed venue that is Lambeau Field.
"There is so much history and tradition. It's a great football atmosphere," Rivera said. "It's a storied place, a neat place to go.
"But," Rivera added, "there's no reason to be in awe of it because you're playing the game, too. Our guys get that."
The Panthers (3-2-1) have enough to worry about facing this current Green Bay Packers team Sunday without bringing the history of the Packers into the equation. While both teams enter the contest owning at least a share of first place in their respective divisions despite up-and-down journeys, the Packers (4-2) are trending up. Green Bay has won three consecutive games, totaling 107 points in the victories.
Here are some things it will take for the Panthers reverse that trend.
SPEED CONTROL: Every opponent facing Green Bay hopes it can somehow slow down quarterback Aaron Rodgers.
To do that, the Panthers might have to speed Rodgers up.
"You've just got to throw that timing off a little bit," linebacker Luke Kuechly said. "You've got to throw that timing off, whether it's getting after him and hitting him with the pass rush or playing physical with wide receivers."
Rodgers, of course, won't make that easy. He ranks second in the NFL with a 111.4 passer rating and is tied for second with 15 touchdown passes against just two interceptions.
"One of the things he does really well is his release is so fast," Kuechly said. "He knows where he's going with the ball, and it's gone. You turn your head, you blink, and it's gone."
Rodgers is capable of handling just about any situation, so the best a defense can do is to put him in as difficult of a situation as possible.
"What we've got to do more so than anything else," Rivera said, "is be good on first and second down, and then see how things go."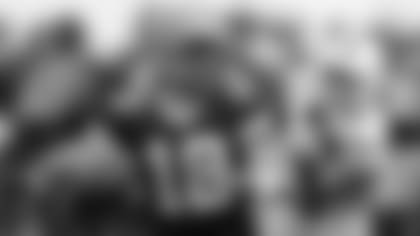 LOOKING DEEPER: Rodgers can hurt defenses all over the field, but nothing hurts worse than a good defensive stand being blown up by a deep strike.
"Nobody has the mobility and the arm strength of this guy. He has the ability to make all the throws," safety Roman Harper said. "Fifty, 60 yards down the field, there is no throw he can't make. There is no deep coverage you don't have to be on top of. He's everything that everybody says he is."
Rivera talked about the chemistry between Rodgers and Jordy Nelson, who leads NFL wide receivers with 43 receptions and for 632 yards. He also referenced Rodgers' developing chemistry with Randall Cobb, who leads NFL wide receivers with seven touchdowns. Both Nelson and Cobb have a half-dozen catches that have covered 20 or more yards.
On average, the Panthers gave up two pass plays of 20 or more yards in their first three games, but they've yielded four in each of their last three games.
STAY IN THE RUNNING: One of the best ways to contain Rodgers is to make him watch from the sideline, and the pieces are in place for the Panthers to do just that.
The Packers rank last in the league against the run, giving up 154.5 yards per game. They've specifically been susceptible to zone-read running schemes, allowing Miami Dolphins quarterback Ryan Tannehill to gain 40 yards on just such a play last week.
Now they must contend with quarterback Cam Newton, coming off his breakout game of the season from a rushing standpoint with 107 yards last week at Cincinnati.
"The things that we do see on film, we have to take full advantage of it," Newton said. "This is a very athletic bunch, so anything that gives us an edge, we'll try to target that as best as possible."
Rivera said he's sure it's something the Packers defense has been working on throughout the week, but it is something teams have recently been able to exploit. It could be a win-win for the Panthers - an approach that could shorten the game, set up the passing game against a defense that could be without both of its starting cornerbacks and produce points all at the same time.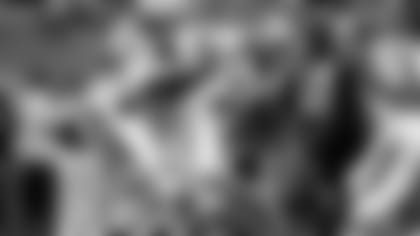 READY, SET, SCORE: Carolina's last visit to Lambeau Field, in 2008, resulted in a 35-31 victory for the Panthers. You really never know from week-to-week in the NFL, but fans should prepare for the possibility of a shootout.
"We know what our defense is capable of, and as an offense it's our job to put up points," Newton said. "I'm not worried about anything that our defense has been doing as far as production."
Newton pointed out the defense's penchant for forcing timely turnovers. Only three teams have more than Carolina's 12 takeaways, but, alas, only four teams have fewer than the Packers' four giveaways.
If the Panthers can't generate takeaways, there could be points aplenty in this one. As evidenced in the most literal terms in last week's 37-37 tie at Cincinnati, the Panthers are capable of matching an opposing offense point-for-point.