Midway through last season, the New England Patriots provided a test that confirmed the Panthers were on their way to a special season.
While Friday's preseason game at New England obviously won't carry as much weight as last season's Monday Night Football victory, it still carries significance.
"They're a team you use as a measuring stick," head coach Ron Rivera said. "It is a very good offense, very good defense and very good special teams. They're a well-coached football team with really good football players. This will be a good test.
"It should give us a good feel for where we are and what we need to work on."
The coaching staff, of course, already has an idea what areas need the most attention. Here are some things they'll be watching for and that fans should watch for as well (7:30 p.m. Panthers TV).
BRACING FOR BRADY: Rivera is particularly curious to see how his defense handles an offense spearheaded by quarterback Tom Brady, a potent unit that could play into the second half.
Rivera called Brady "one of the best all-time quarterbacks," one that can frustrate even the most seasoned secondary.
"When you've got a Hall of Famer taking snaps," safety Thomas DeCoud said, "he can put the ball in the perfect spot and throw guys open."
DeCoud is a key cog in a new-look secondary that is still gelling. The unit has had a couple of hiccups, but the defense has stiffened just in time on most occasions.
"We have a lot of veteran guys that have seen a lot of plays in this league," DeCoud said. "We're using that veteran experience and leadership and the ability to play off of each other, and it's working well for us."
CRUISING WITH CAM: The Panthers also are interested to see what their quarterback will do. Following a slow start in his first game since offseason ankle surgery, Cam Newton led the Panthers to consecutive touchdowns before departing late in the first half of Sunday's victory over Kansas City.
"It's getting better," Newton said of his ankle. "There's daily progress, and that's what we're aiming for."
Newton looked a little rusty – understandably – when he tried to escape the pocket a couple of times early against the Chiefs. The Panthers would ideally hope Newton wouldn't have a reason to try to escape the pocket, but if he does, they'll be looking for him to look like his old self.
"When he was scrambling around the other day, if he had tucked it and run with it, then to me in his mind he's 100 percent," Rivera said. "I think he's really close, and I think he thinks he's really close. When he all of a sudden cuts it loose and completely lets it go, then I'll know that he believes."
Two of Newton's starting offensive linemen – tackle Nate Chandler (knee) and guard Trai Turner (groin) – have been ruled out to recover from injuries, while running back Darrin Reaves (leg) and tight end Mike McNeill (knee) will be game-time decisions. On the other side of the ball, defensive end Charles Johnson (hamstring), linebacker Chase Blackburn (back) and safeties Roman Harper (toe) and Tre Boston (groin) have been ruled out, though Rivera said he's excited about the prospect of Boston being back to full speed soon.
STARTING STRONG: While the Panthers' last preseason game had a happy ending, it got there only after a slow start. The offense didn't pick up a first down in Newton's first three possessions, and the defense gave up big chunks of yards before digging in down in the red zone for the second consecutive week.
A better start – or at least making sure the Patriots don't get off to a fast start – would be a step in the right direction.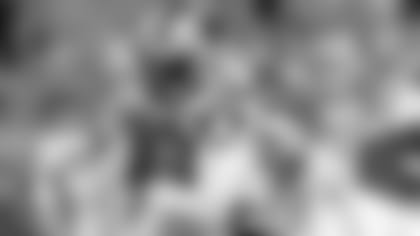 HAPPY RETURNS: Rookie wide receiver Philly Brown, who could be in position to snag a roster spot thanks in part to his special teams skills, performed well on kickoff returns against the Chiefs while not getting as many chances on punt return as hoped.
"You have to maximize every opportunity because like you saw the other night, opportunities are limited," Brown said. "You never know how the ball is going to come off the punter's foot."
Brown returned two kickoffs for 65 yards, and he recorded three fair catches along with a one-yard punt return that included a fumble. Punt return is more the area the Panthers are still trying to figure out as the regular season fast approaches.
"I'm always comfortable with the ball in my hands, and we've got a great group of guys out in front of us that make it so much easier," said Brown, who returned 47 punts for 460 yards and two touchdowns at Ohio State. "As long as those guys are doing their job – which they always do – then I'll be all right."