Seven times in the last nine seasons, the Seattle Seahawks have hosted a playoff game.
Seven times, the Seahawks have emerged victorious.
That's just fine by the Carolina Panthers.
"This game isn't going to be based on what's happened in the past," quarterback Cam Newton said. "This game is going to be about the team that seizes the moment and makes the most of each and every opportunity."
That's something the Panthers have exceled at over the last five weeks, and they'll put a winning streak of their own – and more importantly their season – on the line Saturday in an NFC Divisional Playoff at CenturyLink Field (8:15 p.m., FOX).
Since starting the season 3-8-1, a start the included a narrow home loss to the reigning Super Bowl champion Seahawks, Carolina has won five consecutive games. The streak includes a de facto playoff game for the NFC South title at the Atlanta Falcons in the regular season finale, followed by a home victory over the Arizona Cardinals last weekend in an NFC Wild Card.
Now, the Panthers travel to Seattle, where they lost 2005 NFC Championship, trying to win their first road playoff game since winning at Chicago the week before that loss. Linebacker Thomas Davis is the lone player left from the 2005 team.
"I'm definitely looking forward to playing Seattle. They are the defending Super Bowl champions," Davis said. "What better way than to go in and play a playoff game when nobody is giving you an opportunity in a very hostile environment.  We are ready."
Here are some keys for the Panthers to earn their first trip to the NFC Championship since the 2005 season.
FLIP THE SCRIPT: Carolina has hosted the Seahawks in each of the last three regular seasons, and each game came down to the end. Recalling the narrow losses, head coach Ron Rivera sees a theme.
"If you look back at their three games against us, they've had a big play over the top and we haven't. That's the difference in the games," Rivera said. "We've worked on trying to guard against that and looked at it offensively to see if we can create an opportunity."
In the teams' Week 8 matchup, Seattle pulled out a 13-9 win on a 23-yard touchdown catch by tight end Luke Willson with just 47 seconds left. The year before, it was a 43-yard touchdown reception by wide receiver Jermaine Kearse with 10:13 left for a 12-7 victory. In 2012, it was more about Carolina's inability to make a clutch play, failing to convert a fourth-and-goal at the 1 in the waning minutes of a 16-12 loss.
The Panthers wouldn't mind a similar situation Saturday but must be the ones who close the deal this time. It won't be easy against a team that hasn't allowed a single point in the fourth quarter of its last four home games.
GET SIX: Those recent meetings could have looked different down the stretch if the Panthers had taken advantage of earlier opportunities. Carolina scored just one offensive touchdown in the three games against Seattle, even with six trips to the red zone.
"The last couple of years, I think part of why we have lost to them in those kind of defensive battles has been our red zone efficiency, settling for field goals," tight end Greg Olsen said. "That has to be a point of emphasis for us."
The red zone has been a danger zone for the Panthers much of the season, but not in their last two road games, when they downed division rivals New Orleans and Atlanta by a combined score of 75-13. For whatever reason, Carolina has been even better on the road than at home during its turnaround, a trend that needs to continue since the Panthers have no shot at another home game this season.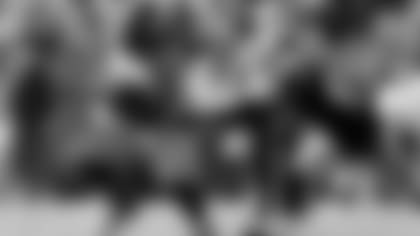 THE LYNCH PIN: When the Seahawks have the ball, they usually ask rugged running back Marshawn Lynch to carry the load, and he usually delivers.
"That team relies heavily on its running game, so that's going to be the key to us being able to get the victory," defensive tackle Colin Cole said. "They have some good guys up front, and he gets that ship going."
Over the past three regular seasons in 45 games against everyone but the Panthers, Lynch has averaged 19 carries for 88 yards per game and has scored 43 touchdowns. In his three games against Carolina, he has averaged 17 carries for 63 yards and has not scored a touchdown.
Lynch might think he's due.
"If they come out and run the ball successfully on you," Davis said, "then it will be a long day for you."
WATCH OUT FOR WILSON: Even with the Panthers limiting Lynch, the Seahawks have had their number. A lot of credit for that goes to No. 3, quarterback Russell Wilson.
"We've got to be able to contain this quarterback," safety Roman Harper said. "He's so dangerous running, throwing, creating different things. Their receivers know how to get open when he scrambles, and they do such a good job of running the ball and mixing it up. They have a great identity."
Wilson, like Newton on the other sideline, is a playmaker, someone capable of turning what looks like a good play for the defense into a big play for his offense. He can keep plays alive like few others, so while pressuring him helps, it's not enough.
HANDLE THE MOMENT: As a key contributor for New Orleans, Harper saw two of his last four seasons end with playoff losses in Seattle.
But even with that history against him, Harper has just the outlook the Panthers need to have against all odds.
"I know some guys have not played out there, but you've got to enjoy that," Harper said. "There's something about going into a hostile environment and making their crowd silent, getting them to sit on their hands by taking over a stadium like that.
"It's not an easy thing, though. You've got to handle your business and do it the right way. If we can do that, it will be something to talk about."