From 3-8-1, to red-hot division champs hosting an NFC Wild Card Playoff. It's been quite a season for the Carolina Panthers, and it's not done yet.
"This has not been the prototypical season of a playoff team," quarterback Cam Newton said. "But who cares?"
Exactly. The second season begins when the Panthers face the Arizona Cardinals, who ended the regular season on a two-game losing skid, on Saturday at Bank of America Stadium (4:35 p.m., ESPN, WJZY in the Charlotte market).
"We're somewhere a lot of people didn't expect us to be," head coach Ron Rivera said. "That's great. These guys worked hard to get here and they understand that a lot of people weren't expecting it. That's a good thing."
The Panthers, who enter the postseason on a four-game winning streak, are seeking their first playoff win since 2005.
"We have to change that," said linebacker Thomas Davis, who was a rookie on that 2005 team. "And it's not going to change by talking about it."
Here are some keys to making it happen.
FIRST QUARTER SUCCESS: Slow starts spelled doom for the Panthers early in the season. But during the four-game win streak, Carolina's execution has drastically improved in the first quarter.
The Panthers have jumped out to an early lead in each of those four wins. Another quick start would certainly help Carolina dictate the pace.
"Playoff momentum is different than regular season momentum," Newton said. "The team who has it, they usually get the win."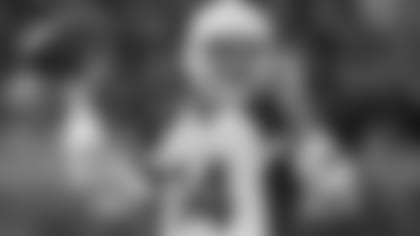 DISRUPTING LINDLEY: The Cardinals are down to their third quarterback. Carson Palmer suffered a season-ending knee injury in Week 10, and backup Drew Stanton has missed the last two games with a knee injury. That leaves Arizona with Ryan Lindley – a sixth-round pick in 2012 who started the final two games in place of Stanton.
Defensively, Carolina will attempt to repeat last week's performance. The Panthers made life miserable for Falcons quarterback Matt Ryan, sacking him six times, hitting him on 12 other occasions and forcing him into two interceptions that were returned for touchdowns.
Now, Lindley is the target.
"We are going to do everything in our power to make it tough on him like we did for Matt Ryan last week," defensive tackle Dwan Edwards said.
GROUND AND POUND: Rain is in the forecast for Saturday, highlighting the importance of the running game. On paper, the Panthers have a clear advantage.
Running back Jonathan Stewart has engineered a run game resurgence, vaulting Carolina to seventh in the NFL in rushing at season's end. Arizona's defense, meanwhile, has had difficulty slowing down running quarterbacks and has surrendered 473 rushing yards in the last two games.
One of the Cardinals' defensive strengths is their playmaking secondary. They also bring blitzes from a variety of fronts in passing situations, making it all the more important for Carolina to have success on the ground.
On the flip side, Arizona ranks 31st in rushing. But Cardinals head coach Bruce Arians knows they'll need to establish a run threat to have success against a surging Panthers defense.
"It is the biggest part of the game for us offensively," Arians said. "We've got to establish something running the ball, especially if the weather dictates the way it sounds, it is going to be tough anyway. Anytime you are playing with a young quarterback, you want to be able to run the football."
HOMEFIELD ADVANTAGE: The Panthers, who will be wearing white jerseys and white pants, know they'll need the support of the home crowd right from the start to claim a long-awaited playoff victory on their home field.
"I am expecting that Bank of America Stadium will be rocking on Saturday," Newton said. "We are going to need everybody's help."
GAME DAY HAPPENINGS

EVENT
DESCRIPTION
Panthers in the Park
Located at Romare Bearden Park in Third Ward between Church Street and Mint Street and open from 2 to 4:05 p.m. Free, interactive area offers fun for the entire family with appearances by the TopCats, Sir Purr and PurrCussion and the Fuel Up to Play 60 Kids Combine.
Panthers Lair
Located on the corner of Mint Street and Morehead Street and open from 2 to 4:20 p.m., with TopCats signing autographs and posing for photos at the 107.9 The Link van, Sir Purr appearing throughout the afternoon and a performance by PurrCussion. Charge your phone at the AT&T Connection Zone. Learn about protecting your home from CPI Security. Play CW Plinko and win prizes from WCCB-TV. Stop by the All-Star Cafe food truck for a quick and delicious meal on the go. Area also features a DJ.
Giveaway
Rally Towels
Pregame
Musical Performance - Matt McAndrew and Chris Jamison
Invocation
Pastor Joel Delph - Elevation Church, Charlotte, N.C.
Presentation
Of Colors
Combat Logistics Battalion 451 - Charlotte, N.C.
National Anthem
Brian McKnight
Halftime
Musical Performance - Tyler Farr