The Panthers' starters are expected to get more playing time when the Miami Dolphins visit Bank of America Stadium on Friday for the team's second preseason game, and they'll be playing to win.
"Even though it's a preseason game and people say it doesn't mean much, we want to win. That's the bottom line," Panthers fullback Mike Tolbert said. "We're competitors. At the end of the day we do this not for the money, not for the glitz and glory. We do it to win."
Tolbert and his fellow starters could possibly play the entire first half against the Dolphins after playing less than a quarter in the opener. Head coach Ron Rivera said he wanted to see the first units get between 23-25 snaps, which could keep them in action until halftime.
When they're playing, and when the reserves are in as well, here are some areas worth keeping a close eye on.
---
CONSISTENT MESSAGE: "I've said it, and I'll say it again: consistency," Rivera said. "We can't have the ups and downs."
Rivera and the rest of the coaching staff will be looking for consistent effort and execution up and down the depth chart. Perhaps the area where that will be the most important is on third down.
In the preseason opener, the offense converted just 2-of-10 third downs, while the defense allowed the Texans to convert 8-of-16. Last year, the offense ranked 10th in the NFL in converting on third down, but the defense ranked just 27th in holding on third down.
---
COMING TO DEFENSE: Rivera said the defense "won" the final week of training camp, and the Panthers certainly want to see that carry over to game day.
"I think the defense is going to come out and play good," Panthers defensive end Charles Johnson said. "We've had a good week of practice, so I'm looking forward to seeing what we produce."
In order for the defense to turn in a good performance, Rivera views a couple of areas as crucial.
"Defensively, I want to see us separate from blockers a little quicker and see us be better tacklers," Rivera said. "We've got to be a little bit more disciplined with gap control in the running game."
---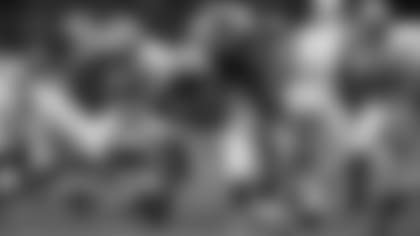 JUST JOSHING? Rookie cornerback Josh Norman stole the show at practice Tuesday with four (or five by his count) interceptions, but Rivera tempered expectations by suggesting Norman could have been flagged a couple of times.
Now Norman will try to show that he can do it in a game, against opposing wide receivers fighting for their jobs and with flag-carrying referees.
Norman has emerged as the only threat at this juncture to Captain Munnerlyn's starting spot, but Munnerlyn also performed very well at camp.
---
CATCHING ON: Brandon LaFell has clearly established himself as a starting wide receiver with his level of play in practice, but now he wants to take it to the playing field.
LaFell played very little in the preseason opener and was targeted just once by quarterback Cam Newton. The two have been clicking in practice, especially of late.
Center Ryan Kalil won't be catching any passes soon, but his goal for the offense as a whole against the Dolphins applies to LaFell and Newton as well.
"I just want to see us get in a better rhythm," Kalil said. "I want something a little more cohesive, a little more put-together. We need to string together some drives.
"It's tough because there are certain things you're working on and certain things you're saving for the regular season, but that's not an excuse to not go out and show great effort and play physical football."
---
ROSTER BATTLES: Rivera wasn't very pleased with what the reserves gave him in the second half of the opener, and that could open the door for some of those scrambling to make the team to make their mark.
Roster spots at the bottom of the depth chart and on special teams are still up for grabs at nearly every position, and in some cases a player could even emerge and convince the coaches to keep one more player at their position.
The 90-man roster must be trimmed to 75 by Aug. 27 – the day after the third preseason game - and will then be set at 53 on Aug. 31.